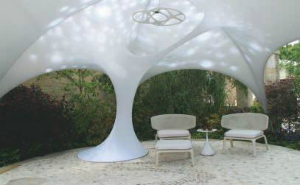 Visitors to the 2011 Chelsea Flower Show were invited to take a journey of discovery

The Chelsea Flower Show, held each year in London, is the hottest ticket on the international landscaping and horticultural scene. To win an award at the world-famous show is a great honour. At the 2011 Chelsea Flower Show the Australian Garden, a co-presentation of Trailfinders and Fleming's Nurseries, won the prestigious silver-gilt medal.

Australian Garden was designed by Ian Barker of Ian Barker Garden Design and the construction team was led by Matt Seymour and Steve Blencowe of Apex Landscapes. The inspiration for the design was the historical journey made by botanist Sir Joseph Banks on the HMB Endeavour between 1768 and 1771. With Captain James Cook at the helm, the HMG Endeavour explored the Southern Hemisphere, including Australia, enabling Banks and his team to collect and document a plethora of flora and fauna.
The design, with its nod to the nautical, offered a plant palette incorporating traditional English species as well as those from regions Banks explored, from South America to Australia. Plants that could be found within the design included Gunnera manicata from Brazil, Elatostema rugosum from New Zealand, Marsilea quadrifolia from Society Islands, Echium candicans from Madeira, Pratia pedunculata from Australia and Astelia banksii from New Zealand, which was named after Sir Joseph Banks.
A feature of the design was a unique canopy structure, a symbolic representation of the canvas sails found on the tall sailing ships of the 1700s. It was also a reference to the fact that canvas tents played a vital role in the early days of Australian settlement.
Reconstituted Australian limestone formed the backdrop for the garden, representing the cliffs of the Australian coastline as well as the limestone buildings that can be found in Portsmouth, England, from where Banks and Cook set sail on their epic voyage. The wall was designed to pay homage to these buildings while its presence grounded the garden design, allowing the plants to take centre stage.
Water was present throughout the garden symbolising the vast oceans traversed on the voyage and designed by Ian Barker to reflect the style of pond that was so popular in England from the mid to late 1700s. Also taking pride of place was a sculpture specially designed for the garden by Melbourne sculptor Rudi Jass of Jass Design. This sculpture drew its inspiration from the winds that carried the explorers across the world.
Further homage to the ocean journey was paid through the delicate use of pebbled detailing on the landings — the pebbles were laid in a design based on satellite images of ocean currents.