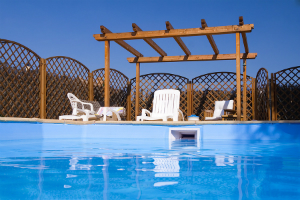 Of traditional design, this poolside pergola provides summer respite
Story: Karen Booth
Photos: Patrick Redmond
By opening up the backyard to create more useable space and building a poolside pergola for shade, a formerly pokey, uneven garden has been turned into a modern, highly functional outdoor living space.
Neatly tucked into a corner, the pergola has a tiled roof that references the roof of the house and a timber-lined ceiling that complements the timber pergola abutting it. The solid roof of the pergola provides year-round shade and protection from all kinds of weather. At present, the arbour is open to the elements but the owners could extend their summer shade coverage by growing a deciduous climber or vine across and between its roof beams.
Positioning of any shade structure is critical to how well it will be used. In this instance, it was placed close to the pool to provide swimmers with respite from the sun and diners a view of the blue-tiled pool.
The new pergola has a traditional, understated look, as does the rest of the backyard, in keeping with the architecture of the house. To complement the house and make the space seem as big as possible, Better Exteriors Landscapes used pale-coloured Aspenstone pavers and painted the rendered retaining walls a soft sandstone colour.
The traditional planting scheme, with its formal English feel, completes the picture. You will find capital pears, crabapples, gardenias and a hedge of English box.
On a practical note, the roof of the pergola and the adjoining garage are used to capture rainwater, which is collected in a tank and used as backup for garden irrigation.