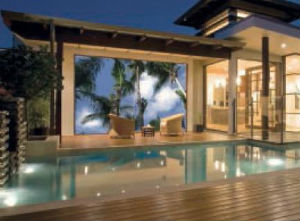 Bring the sights and sounds of your favourite indoor pastimes into the great outdoors
Words: Rachel Falzon
It's not uncommon for homeowners to sdeck out their outdoor rooms as they would their indoor lounge room — and it makes sense. After all, your outdoor room is simply an extension of your living area, so bringing some technological luxuries into this environment seems like a natural thing to do and a way to create a seamless transition between indoor and outdoor entertaining areas.
All it takes is a little knowledge and some practical know-how and you could soon be listening to some music or watching your favourite TV show or movie in the comfort of your own backyard.
At present, outdoor televisions are riding the wave of popularity — and it's a trend that is only going to grow. When looking into buying a television for your outdoor area or room, make sure you buy one that's made specifically for this application. Protection from the elements — particularly dust and moisture — is the most important thing to ensure the appliance's longevity, and the enclosure and seals are what you need to pay most attention to.
Outdoor televisions are given an IP rating, which lets consumers know how well they are sheltered from weather and pesky insects. Also, don't forget that the television will generate heat, which will be captured inside the enclosure, so make sure you choose something that manages this effectively. LCD panels, in particular, do not like excessive heat.
Some televisions will have built-in weatherproof speakers while others will have external speakers. As long as the speakers are weatherproof, they are suitable for outdoor application. Note that you can also hook up a separate audio system to your outdoor television. If you already have speakers installed outside to allow you to listen to music, the addition of a television could be relatively simple.
If you have a large area to convert into an outdoor theatre, a 70-inch screen may be most suitable. If you have a more intimate setting, such as a gazebo or cabana, a 19-inch television may be enough. Whatever the size of your space, there's a television to suit most locations and area sizes.
And there's no need to compromise on image quality when looking for an outdoor television. Today's outdoor televisions come in high-definition, so you have that option if budget permits. And if you're going to all the effort of purchasing a good-quality set for your entertaining area, it makes sense to lock it down to prevent it being stolen, so look into some preventative measures to ensure your television stays right where you left it, such as installing it on vandal-resistant brackets.
The great thing about an outdoor projector is that you can transform your backyard into an outdoor theatre and then pack it away again after use. This is especially useful if space is at a premium. And, because you can make the screen as big as you like, you can watch movies from anywhere in your yard — even from the pool in the middle of summer — as manufactured projector screens come in very large sizes.
If the word "projector" conjures up images of black-and-white movies with no sound, think again. These days, you can hook your DVD player, Blu-Ray player or laptop to the projector and watch your favourite new-release movies or TV series on the big screen outside with sound streaming through your audio system.
Screens can be as simple or as elaborate as you choose. There are a few do-it-yourself options involving white sheets and even creating your own screen with a board and some paint or, if you have one available, a blank white wall. If you're considering building your own projector screen, make sure you do some research into the fabric that will be used to show the images. You'll want a smooth material, such as vinyl, that will show colours as true as possible. Speak to the company you purchase your projector from to find out what fabric is best suited.
However, you can buy readymade screens perfect for outdoor projecting and a great idea is an inflatable screen; these come in sizes to suit all applications and have the benefit of being erected and dismantled when required so you can store it safe and out of view when not in use. For more high-end projects, you might also want to consider a commercial quality screen that can rises up or folds away at the press of a button. These are not a budget option, but there are large retractable screens on the market, suitable for residential applications.
Outdoor speakers are a must for those considering a projector or for those who want even better sound from in their outdoor room. Most importantly, you should install weatherproof speakers designed to be used outdoors to ensure longevity.
As mentioned earlier, you can run your outdoor sound system through your indoor hi-fi setup. You'll need to consider the distance and practicality of running speaker cable — if it's not possible to run the cable through the roof or under the floor, your best option may be to buy some wireless speakers.
If, however, you decide to buy a separate audio system for your outdoor entertainment, there are more options in the range of setups. What you choose will be determined by what you want to use the system for and the quality of sound you want to achieve. Either way, outdoor speakers should be safely and securely mounted on a solid surface, such as wood or brick and it's wise to experiment with different placement options before permanently mounting the speakers on their brackets.
There are a few things you can do to maximise sound quality outdoors. If you place your speakers high, you'll maximise the sound output and if you install them near a wall or solid surface, the sound of the bass will be more impressive. Another tip is to mount them on a slight downward angle so if they happen to get wet, the water will run off. That said, there are some speakers that can be flush-mounted into a wall if you want a clean look.
If you're looking for a discreet way to enjoy music and sound outdoors in an open-air outdoor-room-style area, you'll be pleased, and perhaps surprised, to know that there are speakers disguised as rocks that can be strategically placed around your garden. They come in many different colours (such as granite and sandstone) and sizes and are particularly useful for those who don't want to break the natural look of their landscape.
The beauty of the outdoor room is that it is an extension of your living space, so whether you want to install one or all of the abovementioned technologies, make sure it serves your needs and it will entertain for years to come.