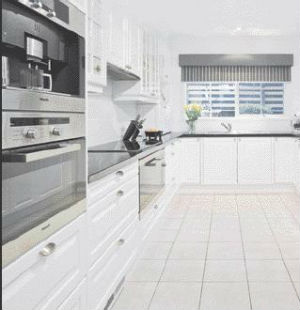 A fresh, good-looking kitchen.
Kitchens rarely get any better than this — spacious, user-friendly and incredibly stylish. Tired of their former dark, dated kitchen, the owners decided to give their 20-year-old space a lift, bringing in the industry's finest to do their thing. Armed with loads of ideas about creating a great-looking kitchen that was also extremely functional, designer Sidney Power has executed his concepts perfectly, creating a homely space that the owners and their family love spending time in.
 A crisp black-and-white colour scheme sends the message that the kitchen is serious about getting down to business. Using the existing white floor tiles as a starting point, Sidney built the kitchen from the ground up, installing a collection of two-pack white-gloss cabinets.
To keep the kitchen looking its best, Sidney has also integrated a range of innovative storage solutions into the design. A clever rotating corner cabinet, pot drawers, pull-out shelves and a handy appliance hatch have all been included to ensure the space is kept as clutter-free as possible. The Décor Kitchens team has pulled out all stops to deliver a contemporary, fresh-faced kitchen that's quickly becoming the hub of this home.