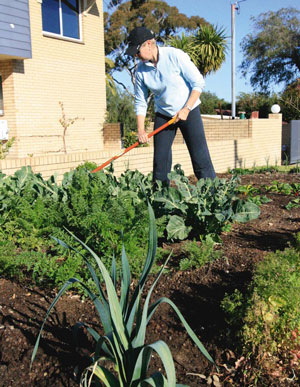 In the garden with Penny Almond, a Western Australian gardener who decided the nature strip was going to waste with only grass growing on it and turned it into a productive vegie patch
Almond is a fitting surname for a person whose passion lies in the productive world of gardens but, sadly, no almond trees grow in this garden, whose owner, Penny Almond, knows full well that the birds would soon attack the tree, stripping it of its fruit at the slightest sign of ripening. Penny and her partner Mark work in the real estate industry and have lived in Bicton, an affluent suburb of Perth, for the past five years. They're now emptynesters as the kids have grown up and moved on. Apart from travelling, keeping fit and collecting art, Penny loves to cook, especially with homegrown produce, which is why she established a garden in the first place. "There's nothing better about cooking than being able to pick your ingredients fresh as you need them," she enthuses. Penny has always been interested in gardening, from reading books to watching gardening shows on TV, but her main inspiration comes from her mum, who lived with Penny and Mark for more than 25 years. "Mum grew up on a farm and 20 years ago she was making this beautiful yellowish-pink quince jelly before anybody knew what it was all about. It was to die for."
Penny's mum has now gone into care but Penny visits her regularly, taking along fresh homegrown produce to be cooked for the residents in the home's kitchen. A corner block meant a lot of nature strip to maintain, so Penny rang the council and asked if she could convert it into a vegie garden. With the thumbsup from council and helpful advice from Josh Burns of Gardening Australia, Penny began the task of converting the large buffalo nature strip into productive garden. Penny got her neighbours to drop off all their unwanted newspaper, which she laid over the entire area, covering that with sheep manure. After a few weeks, the lawn had died off and the manure had started to decompose into the soil. In her excitement, Penny couldn't wait to plant out the garden, so before the newspaper even had a chance to properly break down she started cutting holes in it to plant her first crop of vegies. The garden is only a bit over a year old but Penny and her family have had the pleasure of growing and eating all the seasonal varieties, from tomatoes, onion and lettuce to pumpkin and broccoli.
You'd think that lovely ripe produce growing on the nature strip would grow legs and disappear, but Penny has never had that problem; nothing has ever gone missing. There's always plenty to give to friends and neighbours, anyway — and even curious drive-bys. Penny encourages neighbours to pick herbs such as coriander to stop it going to seed, so everyone benefits from this nature strip. In Perth's temperate climate, with virtually no frost, winter is never a problem. The biggest enemy is probably cabbage butterfly, which Penny never sprays; instead, she wanders out every day or so and spends five minutes picking the caterpillars off the leaves.
Time is Penny's next worst enemy. As much as she would love to propagate her own plants, whether from seed or cuttings, she just can't seem to find the time. Sometimes, she is so busy she forgets what she has planted, though a gardening diary has solved that problem. "There was one time I had sown red cauliflower seeds and then forgotten I had sown them and out of nowhere huge cauliflower plants started to appear. We had 30 to 40 of them of them, so we cooked every cauliflower recipe you could imagine. They were the sweetest cauliflowers we've ever eaten." With her vegie garden on the nature strip, you may be wondering about Penny's garden inside her property. While there is an area for vegies, Penny had the yard professionally landscaped to create a low-maintenance, visually appealing garden that would complement her strikingly unusual sculpture by well-known artist, Les Kossatz.
When Penny laid eyes on the sheep sculpture she fell in love with it and just had to have it. It now stands very tall in her front garden for all to enjoy. Some people pay to have their lawns mown and the clippings taken away. Not Penny. She does get the grass cut but the one time the lawn man took away the clippings he never heard the end of it. "It makes the best worm compost. I'm not an expert but I just sprinkle a bit of blood and bone on it and make little piles everywhere in the garden." This household doesn't need a green waste bin, either, as green stuff is never wasted. All cuttings from the garden are chopped up with a spade and placed in small open piles everywhere. A layer of lawn clippings is added with some blood and bone and a little sheep manure. With a couple of turns over a few short weeks, Penny has fresh organic compost ready to spread back on her garden, which was quite sandy in the beginning. After only one year of composting, though, the soil is already showing wonderful organic texture throughout.
Whatever Penny can't grow, she makes the effort to buy organic. Otherwise, her son, a navy diver who has read every book he can find on healthy living and eating, will lecture her till the cows come home. "I've told, Mum, the most important thing in your life is your health. So why are you still working so hard?" Penny repeats her son's words of wisdom with a chuckle. "The flavours are so different between organic and chemically treated produce," she says, "plus if you buy organic produce you have to eat it straight away because there are no chemicals used to preserve it. I noticed this when I grew some cucumbers. They were so crunchy, but if you were to put my cucumbers in the fridge, they'd last three or four days, whereas bought cucumbers might last two to three weeks because of the chemical treatment." According to Penny, we should all be spending our time and money more wisely to keep ourselves healthy or we'll be spending a lot more of our time and money in the future to make ourselves healthy again. It's not just the good produce that keeps us healthy — the act of gardening itself is hugely beneficial. As Penny says, "There's nothing better than getting out there with a bag of poo and raking it through. I love it. It's relaxing."
Penny's tips
Keep your lawn clippings for making compost.

Keep a diary of your garden. Penny says, "Everything I do is ad hoc but I think it's important to note down what you plant where and not plant the same variety in the same spot every year."

Grow things that are expensive to buy in the shops rather than varieties that are hard work, such as garlic.

Remember that when you are picking you should have already planted the next crop.

Don't throw away your newspapers. Shred them and add them to your compost with some manure and blood and bone along with kitchen scraps to make the best compost.

Gardening is a lot of trial and error. Talk to your neighbours and people you know who love to garden so you can learn different methods and find better solutions to problems that occur along the way