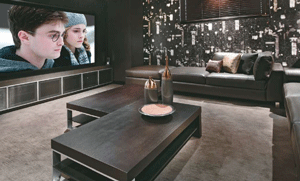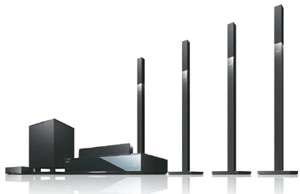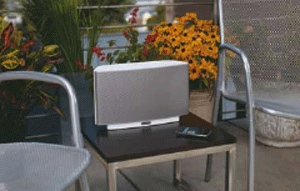 Music has always been an integral part of our lives — particularly at home — and as Steve Freeth discovers, there's never been a better time to tune in

Steeve Freeth
British musician Elvis Costello may have started way back in the analogue '80s with vinyl 45s and LPs, but his most recent album, National Ransom, only got released with a lot of digital and online backup.
First launched as a week-long internet stream, it was followed by a number of free, made-for-web concerts and a scavenger hunt on the location-centric, social networking site FourSquare for tickets to see him perform, er, live. He also backed it up with regular information on both Twitter and Facebook, including hidden messages called Easter Eggs that have become something of a cyber fad.
The move from analogue to digital music — and most notably the MP3 format — may have really only got started at the end of the last century, but its impact has already been huge. The ability to send music electronically at the click of a button to any gadget anywhere has shaken up how we hear, find, buy, store and play music — a process some have called music's move from "hardware" to "service".
And most of us, it appears, have taken to the new musical model without much of a backward glance. According to recent Australian figures we made more than 38 million digital musical purchases last year — 35.9 million of them individual song downloads rather than whole albums — compared to 28 million physical CDs and just 500,000 singles. A trend that's seen online music sales explode, rising by nearly 50 per cent in 2009 and with predictions the market will ring up $360 million in sales by 2014.
This means fewer people will actually go to a shop to get Mr Costello's new album, opting instead to buy it online — or more likely just one or two of the stand-out tracks — and then store it in their gadget of choice so they can listen whenever and however they want. And even that approach may be getting a little scratchy now that options to just subscribe to music sites and access playlists stored in the "cloud" are picking up speed.
Walls of sound
In fact, all that freedom and convenience are the big drivers for how we now enjoy music at home. Virtual playlists — either for individual or whole house access — that can be shifted around at will has created even more opportunities to deliver what the experts like to call "multi-room" or "multi-source" audio. Simply put, this just means a centralised entertainment system that's linked to different rooms or "zones". Internet Protocol — or IP-based whole house networking, multiple speakers and room-based controls — are some of the add-on features that embed flexibility so everyone in the family gets to play DJ without any of the usual hassles or arguments.
Good multi-room audio does require some planning, of course. One of the first decisions will be whether you go the hardwired home option — always best when you're building or renovating generally — or simply opt for wireless. WiFi-type distribution of music around a home is certainly getting better and can include whole house setups, like the Sonos Digital Music System that reportedly can service up to 32 rooms, or options that stream music between devices, like Bose's SoundLink, Apple's Air Play or the Linksys WMB54G Wireless-G Music Bridge.
Most home entertainment experts would probably say they prefer a plugged approach based on wires and cables if it can be done at all, just because it guarantees stable performance and technological flexibility, particularly as home entertainment increasingly goes online. If you do go this way, then you'll want to consider your options carefully, including thinking about which rooms or outside areas you want to include, as well as the sort of lifestyle you and your family lead at home.
"Getting the right foundation to a music system is the best thing anyone can do and that means putting in the right wiring to the right areas," Len Wallis from Len Wallis Audio said. "Your home's entertainment features can seem a long way off when you're dealing with builders and architects, but you'll make a big difference to the end result if you start talking to someone about it as early as possible. I also encourage clients to listen to and use different sound systems so they start to become more aware of what's possible and what they prefer," Len added.
Doing your homework early becomes obviously important when you realise you'll also have to consider things like speakers, music docks, controls and even mechanisation to help hide away some of the hardware. While once upon a time you had to rely on big, ugly boxes sitting in plain sight to get good sound, that's now gone the way of the boom box. Speaker technology and design has exploded in recent years to offer a symphony of choice, including a whole new generation of inbuilt wall, ceiling or behind-screen speakers — generally referred to as architectural speakers — that give much better audio than they ever used to, but are no longer in your face.
It's also smart to wire for music docks and individual room controls, most generally as wall screens, so that anyone wanting to listen to music, podcasts or radio can do it at the touch of a button. Of course, technology waits for no man, or woman, and absolute musical flexibility is now possible in any room even without the fixed option. For a start, many MP3 players or even smart phones can now play to speakers either by cable or wirelessly —check out the Bowers & Wilkins speakers using Apples' Air Play technology, for instance — while many home control companies like Control4 or Crestron have created apps for the iPhone or iPad that let you control and access media wherever you are.
The sweet spot
We may now have the ability to turn the whole house into one giant entertainment hub dancing to the same tune, but delivering pitch-perfect audio to specific rooms like a dedicated cinema or media room is also just as important. The relentless improvement in visual imagery, like High Definition and 3D televisions and projectors, may have monopolised our attention recently, but there's now a growing realisation that sound needs to be just as good if we really want an immersive experience with movies, sport and concerts.
The big move here, of course, has been multichannel surround sound. The standard till now has been to install five speakers and one subwoofer for bass — often known as 5:1 — but that's fast being eclipsed by seven speakers and even higher in some high-end fitouts, as well as multiple subwoofers, though like anything to do with audio and technology, there's still a lot of debate over which systems work best and where.
How they're placed in a room is also becoming something of an exacting science in an effort to deliver great audio to every part of the room (sometimes referred to as the "sweet spot") and match the visual sophistication that technologies like 3D demand. Also making inroads are the use of front-of-room "soundbars" in one neater way to avoid banks of speakers, but in the end it's individual taste and how much of an audiophile you really are, or aspire to be. Well-known brands are generally popular for a reason and products from Sony, Panasonic, Yamaha, Bose and Pioneer are always worth checking out, but there are lots of niche companies like Harmon/Kardon, NAD and Genalec that produce highly accurate, hard-working components.
And as we become more attuned to the subtleties of sound, there's been a growing appreciation that putting some effort into acoustic treatments for windows, floors, walls and doors makes a lot of sense too, especially if you want to get the best out of expensive equipment. How soundtracks and music perform in a dedicated theatre where the environment can be controlled a lot more will vary from the demands of a media or living room that's both multifunctional in use, and open to ambient noise and light.
"I always advise people to do the room planning first and the product shopping later," Steve Spurrier from Studio Connections said. "There is a lot of marketing information out there which can be confusing for most people and so looking at the fundamentals first is really the best option."
The beat goes on
One of the great things about new technology is its ability to recreate or revitalise an old one and nowhere is that more obvious — and exciting even — than with the humble radio (I won't confuse things by calling it wireless).
It may be home entertainment's centenarian and gone through some rough spots as it faced off stiff, if irregular, competition from Hi Fi, CDs, TV, cassette tapes, stereo — well nearly everything that's come through the front door really. Despite the barrage of new gadgets, it's hung on, quietly playing in the background in most homes, cars or offices. Thankfully it lasted long enough to pick the best out of the digital and web revolutions and, frankly, has never looked so good. The public seems to agree as around 11.5 million Australians still tune in to both AM and FM radio for about 20 hours a week, according to the most recent stats.
But technology is making inroads here too. Digital radio, which is also called DAB+ here, only got launched in 2009 and really refers to the use of digital signals to replace analogue radio transmissions in much the same way television is going digital. The advantage is that it not only sounds better, but has a lot more interactive features like audio re-wind, written and visual information displayed on LCD screens, links via ethernet cable to play home or individual media lists, and portability.
It's doing well despite a lack of full coverage across the country, with Nielson reporting that half a million people are tuning in for just over eight hours each week and often to digital-specific stations like DMG's Koffee and Novanation, Austereo's Radar and Hot30 Jelli, and ANC's Grandstand Sports or Dig. Sales have been better than expected too, with Frontier Silicon estimating that over a quarter of a million sets from companies like Sangean, iRiver, Cowan, Grundig, Pure, TEAC, Onkyo, Philips and Sony were sold in Australia during 2010.
Perhaps more influential, at least so far, has been the move toward internet radio or audio streaming as some like to call it. Any broadband connection will put you in touch with thousands upon thousands of big and minuscule web-based stations in all corners of the globe, playing music and information to suit any taste. While this can simply be done over a PC, laptop or smartphone — a Windows Media Browser already builds in a big list of stations — you can now get some great-looking, stand-alone radios that can do all this for you, while a whole range of other home entertainment devices is also coming equipped with web access that will let you search and stream stations.
All this new-found freedom has also perked up the way radios look too, with designers and tech companies getting a lot more creative in the process. While great-looking digital or internet-specific radios have been coming out in recent years, nearly every combination of radio format is now on the market, with many being loaded into devices like clocks and iPod docks in a sign of just how vigorous this part of the home market is getting.
Musical concierge
Alongside the boom in web-based music and gadget connectivity have come companies that want to actively help us both listen to old favourites and find new ones — and hopefully pay for the privilege.
Enter the growing trend in both subscription and ad-supported music sites that come packed with features allowing you to build your own station, listen to tailored playlists prepared by net-bots or highly respected commercial DJs, pick up on the millions being loaded up by people from all over the world, listen on the go or even off-line. In fact, the choices in online music are getting huge and it's probably one reason that sites or stations that can do a lot of the organising and filtering for you are growing in popularity, not unlike how the apps for smartphones and now television help focus all that internet information into one easy-to-consume byte.
Of course, Apple's iTunes has been in this space for some time — the online store launched seven years ago — but even it has seen the need to innovate when it comes to the battle for our ears. For a start they've announced they will extend iTunes sample times from the annoyingly brief 30 seconds to 90, added the Genius music recommendation technology a year ago, and recently picked up on the online social phenomenon by launching "Ping" — and extending links to Twitter — that allows customers to link to friends and strangers, see their choices and listen to their playlists.
Their size and status will no doubt keep them in front for a while yet, but given the army of musical entrepreneurs out there it may not be for much longer. Google, which knows a lucrative trend when it sees one, just launched a new music search feature called OneBox and is expected to announce a much more comprehensive musical offering soon, while a host of newcomers like Rhapsody, MOG, Rdio, Thumbplay, Slacker, Pandora, MSpot, Spotify and eMusic are already up and running. While they may differ over how you pay, they're all offering some form of musical online concierge service that builds in interactivity, purchase options, millions of songs, social networking, tailored information and the ability to synch to a wide variety of gadgets and especially phones. Companies like mSpot, eMusic and Thumbplay are also hoping that the public may get used to storing or listening to their music in the "cloud" — basically a web server like most email services – that can then be accessed at any time from any online device anywhere in the world.
The renewed interest in anytime, anywhere online music has also given a boost to music videos, an industry that had wilted somewhat. Not only have they been given a bit of a creative jolt by the likes of Lady Gaga, Beyonce, Shakira, Jay-Z and Cee Lo lately, but sites like iTunes, YouTube — four of the five most-watched videos here are songs — and newcomers Vevo and Baeblemusic are reporting big audiences for music clips and concerts once more. It's also helped that videos can be accessed easily and routed to all sorts of gadgets, and that new visual technologies like 3D are injecting a lot more excitement. In fact, for a glimpse of just what's possible, take a look at the latest clip from US group, Arcade Fire, which uses virtual information from Google Street View and Google Maps to personalise the experience by putting you — or at least your childhood home — in the picture. (www.thewildernessdowntown.com)
Vinyl ReDux
Of course, like any revolution as big and overpowering as digital and online music, there will always be those who either resist for whatever reason or who grow nostalgic about the past. And that's certainly happening with vinyl records as the audiophiles who've never like digitised music — compression into MP3 formats loses a range of musical information — join forces with a younger generation rediscovering what they seem to see as a more authentic sound.
The major companies have duly taken note. Not only are a number of the major recording studios issuing new product in vinyl, but tech companies are following suit with equipment that can play them — with reports sales are doing well right across the board. Certainly at recent high-tech shows around the world, companies like Marantz, Denon and Clear Audio have shown off vinyl-related components alongside traditional home theatre gear, while others have either been making the digitising of vinyl records into MP3 formats at home much simpler or adding components that give it more warmth and depth via hardware, like vacuum tubes or software like the DFX Sound Enhancer.
Still, for all its new cool status, it's hard to imagine that vinyl will ever really challenge digital again, particularly when it keeps evolving as rapidly as it is. One of the latest innovations, MusicDNA, claims to have moved the MP3 format along even more, saying it offers a much wider range of additional content while listening to music, including lyrics, videos, tour dates and social networks such as Twitter.
"I think technology has re-engaged people with music," said Len Wallis. "I suspect we'll now start to see more interest in the quality of digital music than we have until now, especially as fast broadband becomes common and musicians and media companies adapt to the new possibilities."