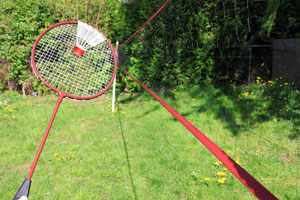 Fancy a game of tennis or a round of golf? Then look to your own backyard 
Story: Catherine Stewart, FAILDM FAIH
Exercising and keeping fit. We know we should be doing more of it but sometimes it seems a long way to the gym, the oval or the court. We know we should be encouraging our children to get outside and play instead of letting them just exercise their thumbs on the computer games' console.
There is a mountain of evidence that tells us kids are not just healthier if they play sports and active games, they'll also be more socially adept, more confident and better able to concentrate. Mastering even a simple physical skill such as throwing and catching a ball is great for building self-esteem.
It's a lot easier than you think to build some backyard sports areas into a garden design, from a small place to kick a ball through to a professional-level tennis court. Even more than a swimming pool, backyard sports become social events, especially for children who usually like something to do. Being able to play tennis, badminton, bowls or bocce is also a great social skill for their future and something they can do with mum and dad. Many real-estate gurus also say that a backyard sports area is now more likely to add value to your home than a swimming pool.
So what sport's for you? Some like individual sports rather than teams so you need to decide if you want it to be an organised rule-oriented sport or a more unstructured type of game. Some, like volleyball, can be either a proper game with teams, rules and scoring or, alternatively, a more informal bash-the-ball-over-the-net with lots of laughing.
For young children, unstructured games and exercise is best, such as a backyard bike track, a masonry wall against which to kick or throw a ball and some hard surface area for hopscotch, handball (kingpin), skating and skateboarding. Older children and adults tend to prefer something more rule-oriented and challenging, so what you choose will depend on your family, your space and, of course, your budget.
How much room do you need? The first essential for ball games is that the space must be level. If you're planning a large, hard-surfaced area — in particular, something as big as a tennis court — with high net fencing and backyard floodlighting for night games, in some states you will need to get council approval. Tennis courts require about 16m x 31m and can be marked out for other sports such as basketball, netball and volleyball. They can also be used for cricket, football and golf practice. If you've less room, you can downscale to half-sized courts and basketball/netball goal areas.
For more informal games, a hard surface area that can be marked with chalk is ideal for hopscotch and schoolyard handball. Smooth surfaces work best (although the ball hitting the cracks is an extra challenge) — just check that the chalk will wash off your pavers. And you might need some screening to protect windows. A hard surface area is also good for skateboarding, perhaps with the addition of a few small ramps and jumps or you can go the whole way and buy/build a backyard half pipe.
And don't forget the trampoline. A backyard tradition, they now come with enclosing safety nets or can be almost hidden in a garden by setting them in at ground level.
For those without quite so much energy, there are other sports for some good backyard exercise. A golf practice net can be set up in minutes and putting greens with artificial grass, either permanently installed or quickly assembled from modular components. Bocce is a great family and social game that can be played on a lawn or firm, levelled sand, with various bocce games ranging from a long 27m pitch down to a 5m rectangle.
If there's just no level area is available, don't despair. Backyard bike tracks are great exercise, take the worry out of kids riding on the street and a bit of hill just adds to the challenge. A loop design works best, incorporate some different surfaces to spice it up a bit and, if you're game, even a dirt-mound jump or two for the BMX champs.
Last but not least is the swimming pool. There is nothing kids enjoy more than water sports; the same goes for active adults, too. And, if swimming is your favourite form of exercise but you don't have room for a large pool, a lap pool tucked along a back or side boundary wall can do the trick. Or you might consider a swim spa that has powerful jets you can swim against and get a good workout.
While backyard sports can be fun, there can also be injuries if equipment is not properly installed and maintained or games are not adequately supervised. Do your homework, especially for installing basketball backboards and rings, which should always be attached to a galvanised pole and never to brickwork or timber fascias which can quickly fatigue and collapse.
Sports for all sizes

The following list gives you a general idea of the amount of space you need for a variety of courts, lanes and playing pitches:
Putting green: 1m x 3m > 3m x 7m
Lawn bowls: 33.5m x 4.5m per lane
Bocce: 27.5m x 2.5-4m
Croquet: 25.6m x 32m
Badminton: 13.4m x 6m
Tennis: 30m x 15m
Volleyball: 9m x 18m
Cricket pitch: 20.1m
Golf practice net: 2.1 x 2.7m 
Bicycle path: 900mm wide
BMX track width: 5m to 1.5m for jumps
Basketball backboard to free throw line: 3.6m 
Netball shooting semi-circle radius: 4.9m, ring 3.05m high