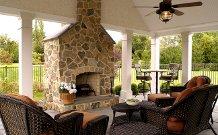 Choose wisely and your new outdoor setting will take you from season to season
Story: Rebecca Calvert
The Australian culture is known for its love of lazy summer afternoons, with friends and family surrounding the barbecue and enjoying the year-round balmy temperatures. Choosing the right outdoor furniture and accessories to create a perfect outdoor entertaining area can really enhance this marvellous lifestyle.
More and more Australians are demonstrating their love of the outdoors through the renovation of their existing garden areas to create spaces where comfort and style is just as important as it is any indoor living area of the house. And, with the vast range of all-weather furniture available, achieving a stylish outdoor living space is easier than ever before.
New trends in outdoor furniture are developed seasonally, but the good quality designs never go out of fashion. It's simply a matter of new looks being added to the market to expand the available options. New trends to hit the outdoor furniture market this summer include outdoor lounge settings with coffee tables, modular lounges and comfy day beds.
Material technologies are also helping to make outdoor furniture more durable and better able to withstand the harsh Australian environment. This season will take advantage of many new designs made from these materials, including cast-iron, laser-cut pressed metal and natural-looking polypropylene wickers.
Tony Coster, Marketing Manager for The Outdoor Furniture Specialists, says: "The introduction of new materials in outdoor furniture, especially PVC wicker, will be a big trend this summer. This is a synthetic wicker that is great for use outdoors due to the low maintenance required and its resistance to the outdoor elements, as well as its unique style. Wicker is used this season in a range of lounge settings, as well as table and chair settings."
Nelum Perera, Freedom Furniture's Senior Buyer for outdoor furniture and upholstery believes one of the hottest looks this summer will be inspired by Australia's arid environments. "The prominent colours used on our outdoor furnishings this season are earthy terracotta, cactus greens and lilac-sky purples. You will also see warm timber furniture finishes mixed with weathered patina finishes on the accessories and light-coloured poly-wicker settings," says Nelum.
When purchasing new outdoor furniture it's important to consider what you need from your new table setting or lounge suite. By answering the following questions you will be able to clarify your requirements which will help you to identify the outdoor furniture that will best suit your needs.
How many people will you need to seat? This will determine the size of setting you need.
What is the size of the outdoor area? This will affect the shape of the table most suitable to your needs: square, round or rectangle.
What will be the main activity when using the furniture: relaxing, reading or eating? This will determine the style, perhaps a lounge with coffee table or a table with chairs.
Where is it going to be placed? Will it be under shade or will it be permanently in direct sunlight and exposed to the elements? This will influence your selection of materials.
How much time are you willing to put into maintenance? This will also affect the type of material you choose, as some materials require upkeep (for example, timber needs to be oiled).
All of these factors will affect the type of outdoor furniture that is best for you and ensure its longevity.
Accessories can change the look of an outdoor setting, allowing you to create a fresh look with each season. For an outdoor dining table, use runners, pots, flower arrangements or candles. For a daybed or lounge, add different coloured cushions.
"Tableware and garden decor is a great way to add some personality and charm to your outdoor space. Whether a clock with humidity and temperature gauges or a splash of colour in the form of table napery or cushions, there any many great ways to give your old furniture a lift," says Nelum.
"Once you have the right furniture for your outdoor area, it is in the detail where you can create an area that will really impress. When choosing accessories for your furniture you need to consider what will complement the furniture as well as the rest of your house," adds Tony.
Choose wisely and you will have a beautifully furnished outdoor room that will take you from day to night and right through summer to winter, and back again.