Choose textiles to inspire.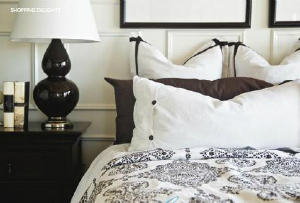 Of all the senses, touch is definitely the most sensual. It is particularly important in decorating, where it is only rivaled by sight. But one could easily argue that how a room feels is more important than how it looks — because no matter how pretty furniture may be, comfort is of extreme importance.
Think beyond how items look when decorating and use the sense of touch to your advantage in decorating with the clever use of textiles. Quilts, throws, slipcovers, cushions, curtains, even the carpet all serve a practical purpose around the home. But deeper than the practical, they can also add comfort, richness and sensuality to your decorating.
When you're choosing soft furnishings for your home, look further than colour or pattern. These elements are, of course, important but they're not everything. How a fabric or piece of furniture feels is as important.
Imagine a collection of brightly hued cushions, all in a basic cotton. Pretty and cheerful? Sure. But what if you took the same colours, the same shaped cushions and only varied the fabrics used in each? A pink chenille, purple velvet, aqua silk, yellow towelling, blue lace and red cord — suddenly, that collection of cushions becomes much more interesting, simply because you've added the sense of touch to the experience.
You may not want to mix a bunch of different fabrics all at once, though this can be a very successful approach — think how stunning many crazy quilt projects are with their fabric hodgepodge. But choosing different fabrics for different rooms will bring a theme to the room.
Try pairing nubby chenille with snuggly flannels in a baby's room or contrasting velvet and organza in a girl's room. To make your bedroom a cozy retreat, you may want to choose elegant, romantic fabrics like silk and lace, and a formal lounge room works well with tapestries, jacquards and velvet. On the other hand, a more casual living area might be better dressed with hardy linens, cottons and cords, and it's worth fitting a kitchen out with basic, washable cotton.Fabric designers very cleverly use texture to enhance their fabrics. The use of different weaving techniques or embroidery in fabric production adds an extra dimension to prints and patterns. Consider this when choosing fabric and if you can find a pattern you like that features an extra little something, it may be worth paying a bit extra for it.
Adding texture to your creative life
With the revival of knitting as an art form, there's an abundance of beautiful yarn on the shelves of craft stores everywhere. Choosing a colour is simply the first step; now there's so much more to consider — the texture and thickness of the yarn, how it knits or crochets up, what you're using it for. Some yarns become beautifully soft fleeces when knitted up, perfect for baby clothing; others are a constant surprise when they're being created, with variegated textures and colours creating a unique piece every time.
Quilters, also, can experiment with touch and texture in their creations. The use of fabrics like flannel or chenille, or embellishing with embroidery, will add an extra dimension to the average cotton quilt.
If you like to sew your own soft furnishings for a custom look, be sure to think past colour and print next time you're choosing fabric for a project. Take a look at all the different fabrics in the colour family you want to use and try to think outside the square. One caveat — always keep in mind the ultimate purpose of your finished product. If you need strong blockout curtains, there's no point looking at floaty silks and organzas. Some fabrics are more hard-wearing than others and this will influence your choices.
Shop for new style
One of the quickest ways to give a dated room a makeover is with new soft furnishings. The addition of new cushions, throws or curtains can change the whole feel of a room for a relatively low price.
If you're on a tight budget, keep the basics neutral. A classic sofa, carpet and curtains provide a perpetually stylish foundation. When you're purchasing these, you can also consider the texture, whether it's a loop or pile carpet, or a velvet, suede or cotton sofa.
Get the foundation right, then you can bring in items such as cushions, quilts and throws to add interest and update a room. This can be done when trends change and your room starts to look really dated. It's amazing what a difference a few new cushions makes.
It can also be done seasonally to freshen up your décor. Bringing out the larger, comfier cushions and snuggly throw rugs is a great way to welcome the cooler months and encourage the family to snuggle up on the couch together. With winter upon us, it's the perfect time to get cosy and comfortable with beautiful textiles.