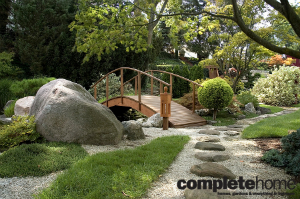 Today a garden centre is more a lifestyle experience than just a place to buy pots and plants
Story: Dean Boone, MAILDM
Photos: Diane Norris and Glenn Weiss
Change is always happening, in everything and everywhere. Sometimes it's for the good and sometimes it's for the bad. When you're in the business of running a garden centre, meeting the demands of consumers is always a challenge. Throw in a serious drought, water restrictions, a changing global economy, the greenhouse effect and increasing consumer expectations and you have a nursery and garden industry under pressure.
In my travels as a presenter on The Garden Gurus I see a lot of garden centres and those that have survived are a new breed — cleaner and leaner. They have had to rethink how they operate and how they sell. They have had to exceed customer expectations, delivering service above and beyond the call of duty. In the process, they have turned the garden centre into a "destination".
We all remember how garden centres used to be, run by passionate people doing what they love. Some nurseries were great, some were average and some were a little messy. The term "shopping experience" wasn't at the forefront and getting a good cup of coffee or spending a few hours in the company of good friends wouldn't really have been an option. They were nurseries that just sold plants and maybe a few odds and ends to go with them.
As the landscape and nursery industries have evolved in recent years, so has what people want in their gardens. Today, big dollars are spent on making the outside as good, if not better than, the inside of many homes. Garden centres have responded with savvy marketing, smart point-of-sale displays and a greater effort to understand customer needs.
Those that have survived the past few years have had to embrace the "shopping experience" concept, which they have done with reward schemes, special offers, excellent (and I mean excellent) quality plants and a huge range of complementary garden and lifestyle-oriented products.
So what do we expect from the modern garden centre? While a café is fast becoming a must, good coffee alone isn't going to ensure a garden centre's success. They have to be smart, really smart — and I'm not just talking about marketing. The modern garden centre has to be as well-appointed as any big chain store or shopping centre. We want what we expect everywhere else: a clean environment, great customer service (especially when it comes to horticultural knowledge) and a well-laid out shopping experience that walks us through each area then leads us back, happy and content, to the checkout.
Garden centres today are about education and fun. They provide us with the right information about what we can and should plant, what's new, what's exciting and, perhaps, they encourage us to indulge in something we wouldn't normally do. To compete in a crowded marketplace and to survive tough weather conditions, garden centres have had to evolve.
The best garden centres stimulate your senses from the very start with great displays, exhibition gardens and outdoor furniture that is dressed and ready for a big family meal. And you won't see slippery, mossy walkways that smell of excessive fertiliser and plants that are six months too long in the pot.
Many have places to sit and relax. Some have gift or art galleries; others book stores or impressive ranges of homewares. Cafes are springing up everywhere and the best centres entice you to lunch, followed by an extended shopping trip in the nursery with a few friends.
They're also designed to make gardening and plant selection easy. You'll see some great posters telling us that "Life is a Garden" and you'll find new plant ranges, such as the recently released "Proven Favourites". These are plants for each season that have stood the test of time, are drought-hardy and great performers. If you have no idea of what will grow well in your garden you can grab some of these for sure-fire success.
In short, the modern garden centre is fresh, fun and informative. It is as much about outdoor living and lifestyle as it is about plants, making it a destination in its own right. So why not take the time to stop and smell the roses?
About the author: Dean Boone of Distinctive Gardens & Interiors is a Sydney-based landscape designer and a presenter on the popular television program, The Garden Gurus.