A fine feat of structural engineering, this lap pool exceeded the owners' expectations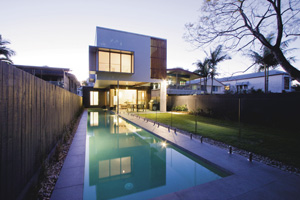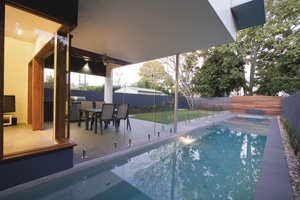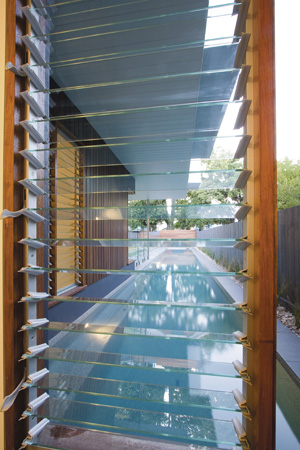 Thanks to the construction expertise and attention to detail of the pool builder, Brisbane-based Rothwell Pools, this architect-designed lap pool blends seamlessly with the sleek lines and modern architecture of the recently extended home.
Explains Chris Rothwell: "The homeowner specifically wanted a pool to train in as he is a professional athlete. So while it was important that the pool blend with the home's new extension and be aesthetically pleasing, it had to be swimmer friendly.
"The 20m-long lap-style pool boasts simple, clean lines," continues Chris, "and was engineered and built to not only swim in but to also literally tie in with the house, as it supports the entire weight of the end of the first and second floors." Of impressive size, one end of the pool runs underneath the top level of the new extension, ensuring a true sense of connection. For a contemporary yet dateless look, square-edge granite was used for the coping and paving and red cedar for the screening. To ensure an uninterrupted view of the pool, semi-frameless glass fencing was installed by Aquavista.
"Access was an issue during this build," says Chris. "The existing house was raised and we gained limited access under the house. We also had to pay particular attention to the engineering due to the fact that the pool shell acts as a supporting structure for the new extension. And with the pool being adjacent to the new kitchen and living room, waterproofing was essential."
Rothwell Pools installed a Magnapool mineral-based filtration system rather than a traditional saltwater chlorination system. "As the owner's training requires him being in the water on a daily basis for long periods of time, it was essential the water be of the very best quality and, with the Magnapool system, we achieved just that. It also provides a preferable swimming environment for his young family," explains Chris. "What's more, the backwash water from a Magnapool, once diluted, can be used to water the plants and grass around the pool, saving water."
Rothwell Pools is a family-owned, award-winning company that understands the importance of customer service and delivering a product with a high standard of workmanship. The commitment of the Rothwell Pools team to customer satisfaction, combined with the professional advice of their structural engineers, takes every project over the line with flying colours.
This is what Nick and Anna, the owners of this pool had to say: "The design of our house centred around the lap pool, so it was crucially important to us that the pool looked fantastic. When we started the process we hoped that the end result would be a 10-out-of-10, and it is. The pool has exceeded all our expectations and is forming a significant part of our lifestyle. Throughout the project, Rothwell Pools cared about delivering a pool that they — and we — could be proud of. A very big thank you!"