This delightful outdoor room setting was truly a makeover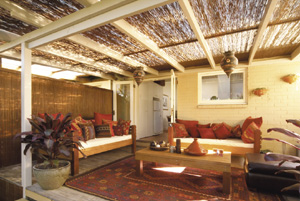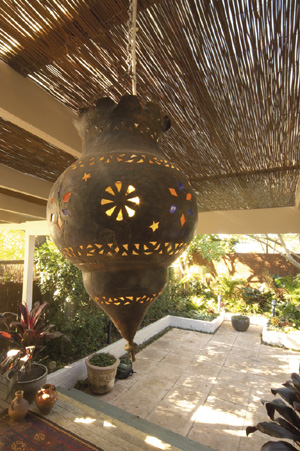 Initially a deck with soiled plastic roofing and a broken lattice side screen, the area failed to complement the tasteful interior of the home. The garden was also marred by an ugly metal fence which was out of keeping with the owner's sense of style. Natureed® cladding, a quality natural product from House of Bamboo, was used to clad the roofing.
Sections of Natureed® were installed between the beams and were attached to the existing battens. This created a dramatic difference, cooling the space while simultaneously providing shade and filtered light. It also obscured the soiled synthetic roofing, while retaining its benefits of rain-proofing. The side of the deck was also made higher and clad with Natureed®, creating much greater privacy and a feeling of cohesion.
At the same time, the fence was given greater height and clad with Natureed®, resulting in a cohesive blend of planting, natural materials and increased privacy. Stylist Lisa Morgan (from the television program My Home) brought additional Moroccan hues to the setting through the use of beautifully coloured cushions, lamps and decorative table items.
Whatever your preferred style for an outdoor eating area, Natureed® is a practical, durable, natural product that will create a cool and shady environment with lovely filtered light. As a natural product, it is quite a neutral element and blends well with many decorative themes.
It cools and obscures synthetic plastic roofing but also works well in areas where rain proofing is not required. As shown here, it is ideal for deck screening (in varied styles), cladding and adding height to unattractive fences. For maximum flexibility, Natureed® comes in sizes up to 2.4m in height and 7.2m in length. House of Bamboo stocks various Natureed® and bamboo-related fencing, screening and cladding, together with some timber screening and varied outdoor furniture and structures into which these materials have been integrated.