Don't let distance put your dream home on hold. Overcome the challenges of building in remote regions with a bit of preparation and planning
While the natural serenity and simplicity of a lifestyle off the beaten track is alluring to some, most people shudder at the thought of actually building and living in a remote region. However, there is immense hidden potential in many secluded parts of the Australian desert, bush and countryside, and nowadays many companies specialise in remote building.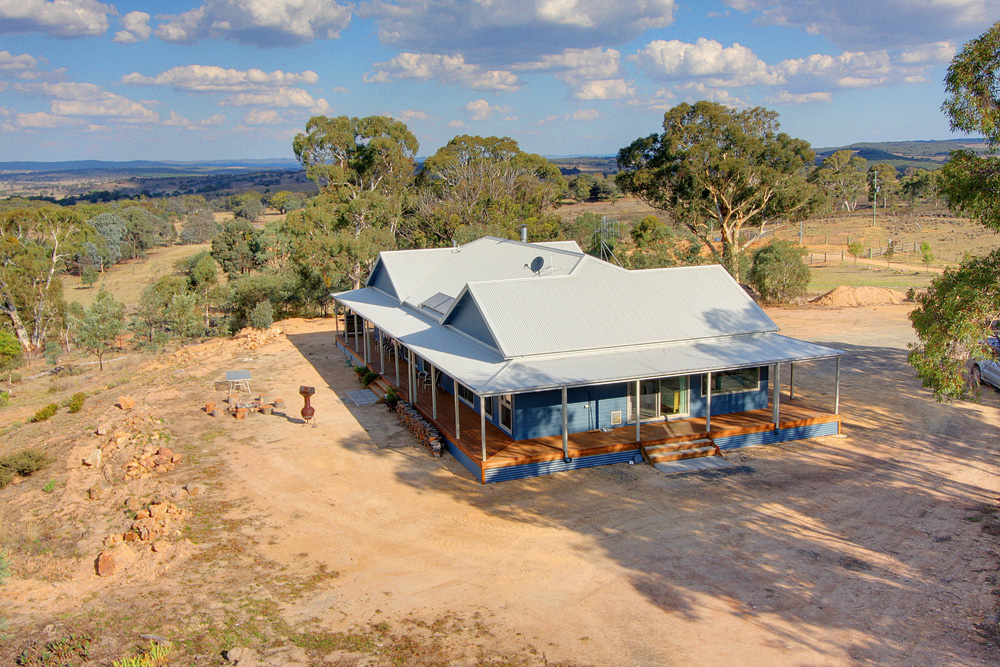 "The most important element to get right when building on a remote site is meticulous planning," explains Darren Kennedy of Kitome. "Different areas require different approaches", so if you're planning on building in the back of beyond, here are some of the things you should take time to ponder on.
Do it right
Remote homes are often characterised by the large distances that exist between them and nearby towns. They're the sort of distances that you wouldn't embark upon without a full tank of petrol, mobile device and an emergency snack or two.
After all, the desert, bush and countryside are all unpredictable areas, and with such haphazard landscapes come many challenges in the building process.
However, as Darren encourages, "no matter what problem the area throws up, there is always a solution." So when you begin to build beyond the black stump, ensure you take the following challenges and solutions into consideration.
Climate
Often, remote locations experience the extremities of the seasons. Garth Chapman Queenslanders combats the local climate by modifying their processes and materials to create homes that adapt and cope well with such exaggerated temperatures across all seasons. Insulating all outer parts of its homes ensures that temperatures remain subdued, and its signature roof ventilator can be opened to release the heat in summer, or closed to retain the warmth in winter.
Lance Clark, representative of Garth Chapman Queenslanders, also outlines the importance of material choice. "Lightweight construction using treated, kiln-dried and strength-graded timber is very suitable," and due to the added expense of freight in building in remote regions, is a cost-effective alternative to standard timber.
Accessibility
Given the seclusion of remote sites, it is often difficult to access hardware stores. Constructing a kit home is often the smartest way to build in extremely isolated regions. Paal Kit Homes specialises in preparing kit homes that are produced off-site and then transported to the block to be quickly assembled.
Paal supplies the owners with all the necessary materials, and the modular hi-tensile steel framing panels are lightweight so can be lifted and bolted together by just one person. The steel frames also ensure a fire-proof, termite-resistant material is the basis of their homes. It is also difficult to transport concrete trucks to distant locations, as road closures, weather and expenses often become obstacles. A solid concrete foundation is almost always essential when building a home. Paal Kit Homes is able to develop a concrete foundation, as they now truck in dry concrete to remote areas, and mix it on-site. If this is not possible, home owners can bypass using concrete altogether by raising the house and placing it on piers — a surprisingly practical and cost-effective alternative.
Mother Nature
In cyclone-prone areas, such as the Northern Territory and North Queensland, homeowners should "plan around cyclone season to ensure that builds are up, weather proof and secure before the season starts," explains Darren Kennedy.
"There are also many architectural considerations that need to be made to ensure that homes meet the correct wind classification necessary for cyclonic areas." When building in remote areas, Kitome avoids using high maintenance materials, such as timber windows that can't endure through harsh cyclone conditions. Darren also explains that Kitome avoids the typical challenges of delivery, such as delays due to flooding, bushfires or cyclones, by closely liaising with its clients, suppliers and transport companies, "to keep up to speed on what is happening where our customers live".
Design
Home owners living off the beaten track usually have a love for the landscape that their home sits amidst. Manor understands this desire to build a house that is harmonious with the surrounding environment. A recent client of theirs led them to build a country home in the Australian bush. The clients fell in love with the natural colour scheme of the land, and wanted to reflect the yellow dust and green shrubbery in the design of their home. "Exterior cladding painted in paperbark is complemented by a shale grey coloured roof," explains Charles Duong of Manor.
"Timber bamboo flooring inside the home further reflected the clients' vision for an environmentally friendly home; and ensured there was a seamless transition between indoors and out — bringing remoteness and nature right inside."
Advice for going off-the-grid
• Find out if the region is prone to termite-attack. If so, opt for treated timber or steel frames.
• Be strategic with your colour scheme. If you're planning on building in a windy area, don't chose a white roof as the dust will show.
• Check if you're building in a cyclonic area. You may have to use materials that meet the correct wind classification.
• Calculate your Bushfire Attack Level (BAL) to ensure your home is at minimal risk.
• Is your site prone to flooding? Consider raising your house on piers.
• Be deliberate with your house layout. Position the most lived-in rooms in a way so that they receive the most favourable weather. Think about the elevation of the sun and cross-ventilation.
• Be weather-wise. Split your home into zones so rooms that are not in use can be sealed off to reduce energy use when heating or cooling the house.
Originally from Build Home magazine, Volume 22 Issue 1