Of all the changes to room decoration throughout the years, the library must surely be one of the most dramatic.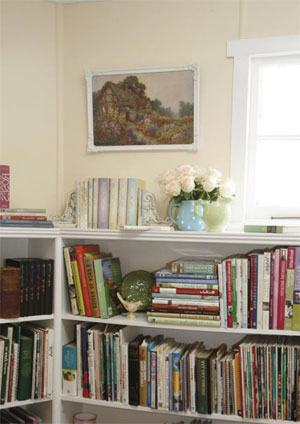 While many still enjoy curling up with a good novel or magazine, the latest self-help or DIY book or the daily newspaper, the dedicated library, as it once was, seldom exists today. The advent of the public library, enabling access to many books for the masses cheaply or even free, along with the growing popularity of the ebook, might have had a hand in the decline of home libraries.
Lack of space could definitely be a reason for this as not everyone has an entire room to set aside just for reading. Perhaps a busy lifestyle means there is simply no time to just sit and read. Of course, with technology comes more exciting and varied ways to spend time than quietly perusing pages and, as most people have a home computer these days, the internet holds a wealth of information that was once only available in books. This is both convenient and space-saving for the homeowner.
The libraries we are most familiar with are usually the ones from the movies with their shelves full of volumes of encyclopaedia, botanical reference books and literary classics, all bound in beautiful leather with lovely gilt embossing. Books reach to the ceiling, requiring a rolling library ladder to retrieve the top-most editions. While the room itself is full of panelled walls that display paintings by old masters, there is an open fireplace to keep the reader warm and antique furniture includes davenports and kneehole desks.
The desk is adorned with ink wells, quills, blotters, paperweights, wax seals, letter openers, envelope clips and candlesticks, because this was not only a room where books were read it was also a place where letters were read and written. The writing of letters is now fast becoming something of a disappearing art, itself.
Still, some of our country's grand mansions that survive today have libraries and if the home has been in the family for more than one generation, are sure to include some treasured reading. Many are little self-contained time capsules containing the popular reading of the time they were in use, home ledgers and even family letters. Sadly, though, the majority of homes today don't have a space dedicated to displaying or storing a collection of books.
Fortunately, there can still be a place for the home library without having to set aside an entire room. A glass display cabinet, the top of a buffet and hutch or, if you would prefer the books hidden from view, a revamped old wardrobe with shelving incorporated into it can work. An entire wall of bookcases in a living room or family room is also an option. Purpose built shelving above doorways or windows is another way to incorporate unobtrusive storage for books into your home without taking up too much space. If space allows, a bookcase or bookshelf in a child's bedroom can help to encourage a lifetime regard for reading and good literature.
Borrow ideas from grand libraries of the past and incorporate them into other rooms such as a den, office or even teenage boy's room. An attractive wall-mounted cupboard or shelves can hold books but be aware of the amount of weight the wall mountings can hold as books grouped together can be very heavy.
If your home is spacious enough to utilise an entire room as a library, it need not have the appearance of the libraries of yesteryear with dark furnishings and limited light. In fact, the more natural light that can stream in through windows, the less eye strain. Curtains can always be added to adjust the light, if necessary. Just be sure to keep any valuable book editions out of direct sunlight, to protect them from fading and losing their value.
For a more modern look, furnishings can be of a lighter timber shade or painted white to reflect light and make the room seem larger and more welcoming. As in the past a suitable-sized desk can be a good starting point and the rest can be added around it. If space does not allow for an entire desk, try and include some kind of table, tray or bench that is a comfortable height to sit at and a comfortable chair to sit in for long periods is an essential. The table needs to be large enough for several books to be open and within reach at one time while still having enough space for a cuppa, of course. The chair needs to be well-padded, even luxurious, to encourage nice long reading sessions.
You could still incorporate vintage touches such as ink wells, blotters and seals while antique letter openers and envelope clips will also be practical as well as decorative. An antique desk lamp or modern replica will add charm and function and, when not in use, vintage Victorian greeting cards laid out on the desktop will add to the old-world appeal.
If a computer is to be housed inside the library it may be able to be hidden in a corner so as to not spoil the overall appearance of the room, or even ingenuously hidden inside a buffet. But practicality is key so that a blend of antique, vintage and modern-day technology is not unpleasant.
Whether you have just a corner to tuck away a bookcase, an entire wall to devote to built-in bookcases or merely a shelf over a doorway, a home library is a great way to encourage all the family to read and that has to be a good habit for them to get into.
Did you know?
The term "library" applies to not only a collection of books but also the building or room it is housed in. Today the term has also come to apply to a collection of similar materials for common use. As a result we now have toy libraries, slide libraries, tool libraries and even photo libraries.