How to take your kitchen and bathroom to the next level.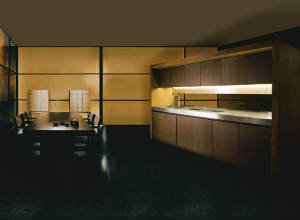 Kitchens and bathrooms continue to be the most important rooms in your home. This issue, we investigate the latest in design trends from Italy's Eurocucina design fair and get the scoop on the growing trends in Australia and overseas. We also showcase the latest in appliances, products and innovations, and talk exclusively to architect Ian Moore about why every home needs an outdoor bathroom.
One of Australia's best kitchen and bathroom designers, Paul Hutchison offers his expert advice on lighting, appliances, how to best make use of a small space, and lets us in on the key secrets to designing the chef's corner and sanctuary. We also show you how to create a modern classic look by choosing a black and white colour scheme. And don't forget our regular hot-off-the-press pages where you're sure to find inspiration.
When the name Giorgio Armani comes to mind, we immediately think fashion. But he's branching out into a new industry — kitchen design — and it's sure to make headlines According to Giorgio Armani, the kitchen is a workplace. It needs to be practical in its function and comfortable, while also providing an atmosphere just like the other rooms in the house. The inspiration came in waves — he wanted to bridge the dining and living areas of the home and create a space full of sophistication and emotion, while at the same time keeping the space practical and functional. He went on to create Bridge, with DADA. Visit www.dadaweb.it
In seclusion
One of Australia's leading architects, Ian Moore, has just unveiled his Designer Bathroom Series and discusses why the outdoor bathroom is quickly becoming an indispensable part of any home.
Many countries with tropical and sub-tropical climates have been enjoying the concept of an outdoor bathroom for centuries, says Ian. While it appears to be a new trend adopted in many Australian homes, we are simply following an age-old tradition that was unfortunately not part of the European way of life and it has taken us this long to catch up with Asia and Latin America.
It's an exciting concept to have outdoor bathrooms in the Australian home. When and how did this trend begin?
It began when people started staying at resorts such as the Four Seasons in Bali and other similar resorts around the world that have outdoor bathrooms in private courtyards. When people get back home they want something similar and Australia has the climate to be able to do this.
What do people get out of having an outdoor bathroom?
It allows people to enjoy the Australian climate, offering more space to relax in a bathroom. It is about relaxation, not just about getting clean.
How does an outdoor bathroom add value to the home?
It definitely adds value when it is done well! If there is a private courtyard with a bathroom attached, you are able to feel as if you are on holiday, at home.
Describe the elements that make a great outdoor bathroom.
It is all dependent on the house, site and view. What you need most is a great architect.
For more information, contact Caroma Dorf on 131 416 or visit www.caroma.com.au, www.dorf.com.au or www.fowler.com.au