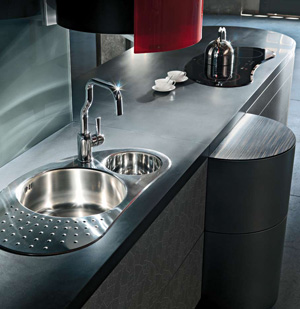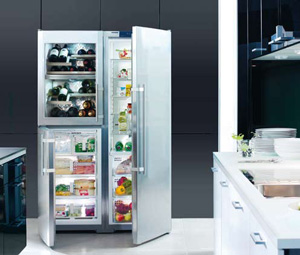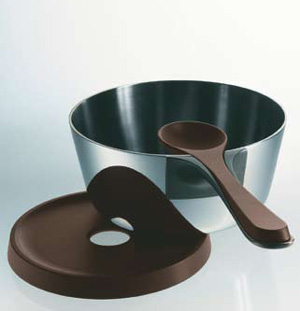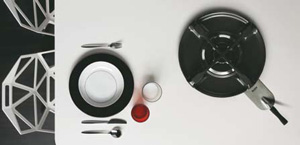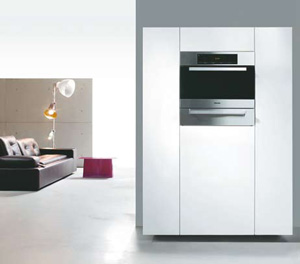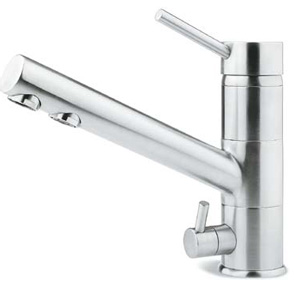 Immerse yourself in an inspiring world of kitchen and bathroom design. It's an ever-changing realm that looks to the future, dabbles with old favourites, and plays with style and flavour.
Image 1:
Alessi complete kitchen project with furniture and hoods by Valcucine and faucets by Oras.
Ingenious Ideas
With so many clever and resourceful designs out there, we've compiled some of our favourites for the kitchen.
Image 2:
The SBSes 7155 stainless-steel side-by-side from Liebherr is a jack of all trades. It stores both food and wine using a unique BioFresh technology, which keeps food fresher for up to three times longer than a conventional crisper. With its own dual-zone wine compartment, it also allows you to store different wines at a precise temperature between 5ºC and 20°C. It's available from Premium Appliances.
Image 3:
The Alessi Pasta Pot revisits an age-old tradition to obtain pasta perfection. It allows you to use the one pot to cook and serve. Beginning with dry pasta and various sauce ingredients followed by water or broth, you can gradually cook everything together with the specifically designed cover, stirring occasionally. When done, bring to the table and serve directly from its special trivet. This style of cooking enables the starch to keep the pasta together, allowing undiluted flavours to retain their intensity.
Image 4:
Progetti from Glem Gas is a revolutionary new designer appliance range that brings the cooking appliance to the dinner table. The Origine and Stellare designs are single gas burners that can be fitted directly into any kitchen surface or benchtop. They're both available in three different burner sizes.
Image 5:
Ensure perfect cooking results every time with the Miele DGC 5080 XL Combi-Steam Oven. It includes myriad intelligent features such as electronically controlled automatic programs that simplify the process of baking and roasting using a sequence of humid and dry conditions.
Image 6:
It's easy to see why the Culino Dual Mixer from Faucet Australia is so popular. It's an innovative sink mixer and drinking tap in one.