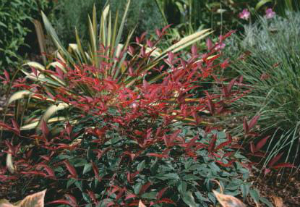 Top tips for finding great-looking, reliable plants for your garden
By Emily Cloke

When the time comes to design your ideal lifestyle landscape, which includes selecting and sourcing the elements that will be contained within it, you start to discover myriad wonderful plants you have at your disposal. The key to success is to identify and then combine those ingredients (from plants to paving) that will best reflect your design theme and give you a space that will feel like a peaceful retreat.
Choosing the right plants, of course, is not just an exercise in self-expression. The plants need to complement the landscape design, the architectural style of the home and be suited to the growing conditions, which encompasses factors that range from rainfall and aspect to soil condition and drainage. 
Choosing a style
If you have a love of order and neat, crisply defined spaces, then a modern or more formal garden style might resonate with your innate sense of symmetry and love of stillness. Should a more relaxed, slightly wild and more abundant landscape make you feel right at home, then a tropical planting scheme or bushland-inspired garden design might be good choices.
If streamlined surfaces, sculptures and outdoor cooking spaces are what will bring you a feeling of contentment — and enhance the functionality of your landscape — then they are key considerations to include. The idea is to achieve a level of cohesion in the overall layout of your garden. You need to achieve just the right balance between the ornamental and the functional and ensure there is a sense of connectedness between the plants and products you use.
Spoiled for choice
Selecting which plants to include in your landscape and in what quantities can be quite a daunting task. The sheer volume and diversity of green stock available to gardeners today means you are literally spoiled for choice, but too much of a good thing can be a little frightening.
While it is a matter of personal preference and individual style as to which plants will bring you the most pleasure, for the best results you need to choose proven performers. To get you started, we have compiled a list of some of the most popular and reliable plants used in gardens right around the country. Each has earned a mention because of its outstanding characteristics and unique appeal.
There is something for everyone among the top performers of landscaping listed here, whether it is foliage, colour, flowers, resilience, or symmetry of form that tops your priorities. This list is by no means exhaustive but gives you a starting point and a glimpse at the lineup of renowned varieties available for use.
Feature Trees
Pandanus tectorius (screwpine): Contemporary shape and versatility.
Morus alba 'Pendula' (weeping mulberry): Classic charm and soothing form.
Acer palmatum (Japanese maple): Stunning colour and moderate size.
Plumeria obtusa (evergreen frangipani): Magnificent flowers and interesting habit.
Tropical Shrubs
Rhaphis excelsa (lady finger palm): Dense green hue with compact form.
Cordyline fruiticosa (palm lily): Diverse and bold colour with a relaxed habit.
Alpinia variegata (shell ginger): Full-bodied growth and bright variegation.
Agave attenuata (soft-tip agave): Tough as nails with a contemporary form.
Formal Shrubs
Gardenia magnifica: Memorable perfume and glossy foliage.
Buxus microphylla (Japanese box): Brilliant tight bushes for topiary and hedging.
Nandina domestica 'Nana' (dwarf sacred bamboo): Changeable colours and compact habit.
Native Shrubs
Callistemon 'Little John': Tight, dusky grey foliage with soft red blooms.
Grevillea 'Lollipop': Grafted hybrid with dwarfed habit and masses of hot pink blooms.
Syzygium 'Cascade': Graceful pink blooms and leaf tips set among cascading foliage.
Xanthostemon chrysanthus 'Fairhill Gold': Compact hybrid with large clusters of foliage.
Strappy Foliage
Liriope muscari 'Royal Purple' and 'Stripey White': Neat growth and fabulous for borders.
Ophiopogon nigrescens (black mondo): Eye-catching and very
effective, used in mass plantings.
Climbing Plants
Mandevillea (Chilean jasmine): A profusion of beautifully coloured flowers.
Trachelospermum jasminoides (Chinese star jasmine): Heady fragrance and prolific growth.
Ficus pumilia (creeping fig): Boasting oval-shaped leaves, this plant self-attaches to walls.
Ground Cover
Echeveria glauca: Succulent with appealing symmetry and perfect for borders.
Zoysia tenufolia (no mow grass): Unusually fine leaves and dense coverage.
Grevillea 'Cooroora Cascade': Ideal for cascading down rock walls; also fauna-attracting.
Indoor Plants
Scindapsus aureus (devil's ivy): Resilient and prolific in varied locations.
Chamaedorea seifrizii (bamboo palm): Slender stems and soft, bamboo-like appearance.
Spathiphyllum 'Sensation' (peace lily): Unusually large and splendid leaves with an arching grace.
This article was prepared by Emily Cloke, a landscape designer and horticultural consultant with Boyd's Bay Landscape & Environment, on behalf of the Australian Institute of Landscape Designers & Managers (AILDM). If you would like to find an AILDM member in your area, visit the website: www.aildm.com.au1