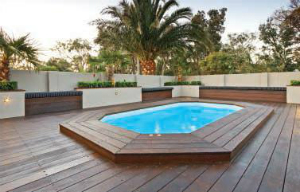 Transform your outdoor area with a timber deck and add style plus functionality to your home
By Natalie Raad
The beauty of decks cannot be underestimated. Both practical and visually pleasing, decks add interest to outdoor spaces and have the power to turn gardens into outdoor havens. With a flexible design and immaculate finish, a deck can be incorporated into any backyard, and with such versatility, it's no wonder a deck is considered to be a major lifestyle asset.
Decks can be either attached to your house or freestanding. An attached deck is ideal if you want to extend your living area outdoors — just add bi-fold doors and you've got yourself the perfect outdoor room. Freestanding decks can be used for a gazebo or to surround a pool or spa, and make a great entertaining area.
First things first
When designing your deck your must first decide what it will be used for — this will then determine the size and overall style of the deck. Decks have many functions — whether it's making better use of a sloping site, extending your living area, creating a safe place for kids to play or making a haven for entertaining guests, decks are ideal additions to any outdoor space.
Decks are also very versatile, meaning you can create almost any shape or design including multi-levelled, curved, segmented and elevated. Decks can also be incorporated into outdoor areas in a multitude of ways, and can satisfy virtually any outdoor requirement.
And if you think you need a large backyard for decking, think again. The flexibility of its design means that every backyard — big or small — can benefit from the beauty of a timber deck.
Also remember that decking doesn't have to be on the ground. You can create a balcony or elevated area using timber decking to make the most of your space and get the most out of your home.
Myriad materials
There are many different materials that can be used for decks, the most popular being timber. With its timeless appeal, warmth and natural elegance, timber is an ideal material for decks, and is also the environmentally responsible choice. Wood is also available in a large range of colours, grains and textures, and is cost-effective, meaning it will last a lifetime.
Decking boards come in a variety of timbers and what you choose will depend on your budget and the look you are trying to achieve. Something structural such as a deck will require hardwood.
Merbau/kwila and kapur from sustainably managed forests are hardwoods that weather well and require minimum care. Hardwood decks withstand weathering the best and are ideal in Australian conditions.
Design and construction
Correct design and construction of a deck is of the utmost importance and the safety and longevity of a deck should not be compromised by using substandard timber sizes or materials.
The construction of a deck should be done according to standard engineering codes. These dictate floor load widths and will provide a guide as to the distance you require between bearers and the sizes of your internal timbers. It's best to consult a professional when designing your deck, as they will also be able to advise on council regulations.
It's important to bear in mind that not all decking timbers are the same, with different decking timbers providing different performance. Quality decking timber should be of appropriate durability, seasoned, stable and preservative-treated.
The correct fixing and fixing method is another vital consideration to the long-term performance and appearance of timber decking. For example, in corrosive environments such as coastal areas or around pools, all fixings should be stainless steel.
Maintenance matters
Once you've designed and constructed your deck, the next consideration is maintenance. Keeping your deck looking good and performing at its best is as simple as adding that finishing touch. Like all materials used outdoors, timber needs to be looked after so it doesn't lose its appeal due to the elements.
Timber decking will not only add visual interest to your outdoor space, but also functionality. However, designing and constructing a deck is only half the job — maintaining it is also very important. To ensure your deck looks good and performs as it should, it requires the right finishing touch.
The finish of a deck will not only assist its visual appeal but it will also act as a protector. For example, good-quality exterior paints will protect from the elements, while providing great colour. Exterior paints usually last up to 10 years.
Choosing a finish
Decking finishes are used primarily to protect the timber from weather damage while also maintaining the natural appearance of the timber itself. There are many different finishes to choose from, including:
•Decking oils: Decking oils penetrate the surface of the timber while providing a natural appearance. Decking oils are ideal as they do not form a significant surface film  that can then later damage or peel.
•Decking stains: In comparison, decking stains generally contain coloured pigments and obscure the appearance of decking to a greater degree than decking oils.  Decking stains, however, provide greater protection and need recoating less regularly.
•Clear film-building finishes: These finishes build a protective layer on the surface of the decking and can last a number of years. With clear film-building finishes,  preparation in accordance with the manufacturer's recommendations is critical to achieving satisfactory performance.
Know your timber
Before choosing which stain, varnish or clear timber finish to use, it's important to know a little about the type of timber you will be treating. New timber for instance, can contain a lot of tannins and oils. The darker the timber, the more tannins it contains. Before applying a finish, you must first clean the tannins, oils and dirt from the timber.
Timber also needs protecting from the sun. All exterior timber, from decking, walkways and furniture, can be damaged by the sun. This can change the colour of the timber and damage it in the long-term. When deciding on a timber finish, be sure to choose a product with UV absorbers.
Water-based timber finishes are the perfect choice as they are environmentally responsible, quick to dry and will last twice as long as traditional decking oils.
You'll also have to take into account that timber can become very slippery and dangerous when wet, so it's important to choose a timber finish that increases slip resistance.
Protect your investment
Once you've decided on a decking finish, remember to apply a sealer. The sealer should be compatible with the finishing coat.
The periods between application will vary depending on the amount of exposure your deck has to traffic, sun and rain. In average conditions, however, you should expect protection for nine to 12 months from oils; 12 to 18 months from stains; and several years from film-building finishes.
You just can't beat the visual appeal, warmth and natural feel of timber. And if maintained correctly, timber decking will continue to look good and perform well for many years.
A deck is an asset to any home. Functional and visually appealing, a deck is the perfect way to extend your living area and create the perfect haven for entertaining outdoors. Its versatility means decks can also be used around pools and spas or for a gazebo. With such flexibility, it's no wonder decks are becoming more and more common in Australian backyards.
Timber Tips
• Maintenance: Depending on the type of timber chosen, you will need to oil or stain your deck every six to 12 months.
• Clean First: It's important to clean the tannins, oils and dirt from the timber before applying a timber finish.
• Decking Finishes: These protect the timber from weather damage and maintain the natural appearance of the timber itself.
• Decking Oils: Decking oils are intended to penetrate the surface of the timber and enhance the natural appearance.
• Decking Stains: These generally contain coloured pigments so obscure the appearance of the decking more than decking oils, but they provide greater protection.