Most people become comfortable with favourite pieces of furniture and may like to restore them to their former glory. However, restoring the finish on items as they begin to wear can be a fairly daunting prospect and the potential cost of having this done by a professional is also more than most people can afford or justify.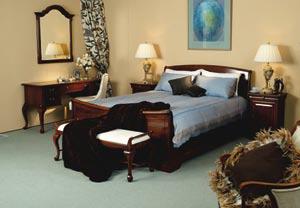 People who have always loved antique or character furniture are another group who often aspire to the idea of vintage, country-style living but frequently lack the knowledge or experience to properly restore the treasures they find at auction or at second-hand shops.
Many people in this group will buy a lovely period item and attempt to recondition it themselves using modern products that contain silicone or polyurethane and end up with something overpatched or over-polished, which looks completely out of place. There is an easier way and it needn't be time-consuming, labour intensive or terribly expensive, nor will it require any great knowledge of traditional restoration techniques. This is where Howard Products comes in.
Howard's famous Restor-A-finish is really versatile. David Foster, from Howard Products Australia, had a client who had his timber floors finished with a commercial, pretend tung-oil preparation. The home's floors, just two years old, were showing considerable scratches and dullness. He wanted to attend to the scratches and bring up the finish.
"Many people, including professionals, use our Restor-A-Finish on battered or marked floors with reportedly great success. The secret is to use very little and spread it very thinly and rub it hard into the wood then buff it completely dry," said David.
Another customer who faced what he felt was an almost insurmountable problem with marks on a table sent David this email: "Thank you for your help with the restoring of our Baltic pine dining table. "
We inadvertently created some unsightly white stains when hot items were placed on the table. When we could stand it no longer we decided we would have to sand it down and re-lacquer it.
 "Then, thank goodness, I saw your demonstrations at the Melbourne Working With Wood Show. I was so impressed by what I saw you do and what I heard you say that I purchased the Restor-AFinish, Feed-N-Wax and Orange Oil. "On the weekend we got stuck into applying the products to the table — and the pictures I have sent you speak for themselves!
 "My wife cannot believe the results. The more she used the 0000 steel wool soaked with Restor-A-Finish, the more the white stains disappeared before her eyes." 
Howard Products Australia is not only devoted to providing solutions for the care and restoration of fine wood furniture and wood finishes, but also for the care of leather furniture, silver, copper, brass and most other household surfaces. Howard Products is an environmentally aware organisation and keeps its products as pure and natural as possible and, where practical, chemical-free. The Howard Naturals range is a testament to this, using only vegetable-derived ingredients.
Since 1969, this small but world-renowned manufacturer of innovative products has committed itself to making products that really work and to deliver the very best customer service possible. 
Today, you can go to the company's website to see a demonstration video, product advice, find a stockist or buy online.