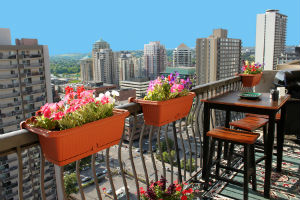 If you live in the city, sometimes there's only one place left to go … up on the roof
Story: Karen Booth
With space such a precious commodity in most urban settings, roof gardens offer city dwellers an enhanced lifestyle. It might be a quiet place to read on a Sunday morning or a stunning spot to entertain guests, the night-lit skyline forming a dramatic backdrop.
When you consider that most of us are willing to pay a premium for a view, it's a little surprising that Australians have lagged behind their American and European cousins in recognising the great potential a rooftop space, whether atop part of the house or the garage, offers. But this is rapidly changing as more and more of us embrace the lifestyle benefits of creating our very own, very private rooftop retreat.
If you live in one of the major cities where land prices are prohibitive, making the most of every available outdoor space makes good economic sense as it will add to the resale value of your property, advises Matthew Cantwell from Secret Gardens of Sydney.
It also makes sense, he says, for apartment dwellers to look to their rooftop terraces and consider how they can take what is often an underutilised space and turn it into an outdoor living haven that offers all the amenities and comforts of a conventional garden.
While your design options are as limitless as they would be with any ground-floor courtyard or garden space, there are some very particular practical considerations with a rooftop garden.
Says Matthew: "If you live in an apartment block, there are often issues with the body corporate as you cannot change the external appearance of the building without approval, except with plants of course. You may also need council approval if you are to build fencing or shade structures on top of a house or garage."
Then there are issues of waterproofing, drainage and the roof's weight-bearing capacity. "Ensure that you consult an engineer regarding your design, particularly with regards to waterproofing. Waterproofing is absolutely the most important element, so hire a professional company with a proven track record," adds Matthew.
Vince Tassone of Exterior Living also emphasises the importance of proper planning and working with professionals. "With walls and fencing, for example, secure bracing can't be stressed enough as wind resistance is definitely more intense at greater heights. Also, with lighting and cabling, the luxury of simply burying things underground doesn't exist, therefore careful planning needs to go into making sure all of the services are inconspicuous."
When it comes to wind and shade protection, he adds, one of the main selling points of a rooftop is generally the panoramic views they offer of city skylines, beaches or far-flung mountain ranges. The challenge, therefore, is to design sturdy wind breaks, privacy screens and shade solutions that are effective without obscuring any precious views.
Vince also urges taking a balanced approach to choosing water features. "Most rooftop gardens are small so don't buy a water feature that overwhelms the space with the sound of crashing water. Most people don't realise how noisy water can be, particularly at night," he says.
Keeping a sense of scale is important when selecting décor and furniture, as is weight. To reduce weight, you might use plastic pots instead of terracotta, timber decking instead of heavy concrete pavers, aluminium furniture instead of natural stone.
Container gardening is ideal for rooftop spaces. A row of potted evergreens can make for a lovely privacy screen, or one or two stunning architectural plants can be used to create focal points and deliver maximum impact in the minimum amount of space. Just keep an eye on the weight of any pots or planter boxes.
Many drought-tolerant coastal, desert and Mediterranean plants can do well in the kind of sunny and exposed positions you find in many rooftop gardens, so choose wisely because plants can make a major contribution to how cool the space will be and how inviting.
A well-designed roof terrace or garden can be a true delight, offering you a completely different perspective on life and a degree of privacy rarely experienced in ground-level gardens, which are typically enclosed on all sides by other dwellings or overlooked by neighbours. So, if you're looking for a way to extend your outdoor living options, look to your roof and ponder the possibilities.