With a home that was already designed to complement its sub-tropical rainforest surrounds, the owners wanted a swimming pool that would sit just as lightly in the natural environment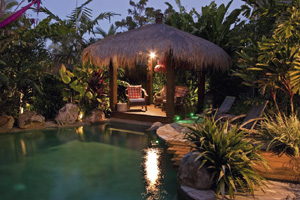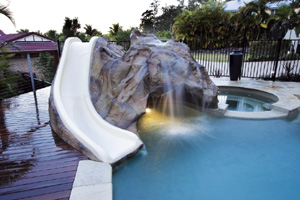 This swimming pool, designed and built by Majestic Pools, has managed to do just that. Not only does it have an authentic sense of place, it uses the natural rainforest backdrop to spectacular effect.
When the owners approached Majestic Pools, they were armed with a wish list which included a large swimming space complete with cave, waterslide, spa and beach — all which had to be created in an area best described as a ditch with a four-metre drop. Although this posed several challenges, these were all met with clever engineering solutions implemented under the careful control of the project manager.
To ensure a harmonious look, the designers at Majestic Pools selected finishes sympathetic to the environment. Note the use of natural materials such as the merbau timber decking, the Himalayan quartz random paving, and thelocally sourced bush rocks intermingled with realistic replica rocks. To soften the effect of these materials, there are large planting beds.
Moving outside of the pool area, Majestic carried out a variety of additional works including the construction of a basketball court. Andrew Jakovac, who heads up the Majestic design team, says he and his colleagues are dedicated to ensuring their pools work as part of an overall plan for the home, as was the case here.
By taking the time to find out how the pool would be used, and assess the surrounding landscape, the designer was able to design a pool that looks completely at home and will suit the family's requirements for many years to come.
In short, by drawing on their experience and going that extra mile to create something unique, Majestic Pools has given the owners of this property their dream pool.
Eager for a lagoon-style pool with what Director Andrew Jakovac describes a "Bali meets Queensland feel", the owners of this Brisbane property looked to Majestic Pools to create the backyard retreat they longed for. To give the poolscape the natural ambience the owners craved, the designer (one of several employed by Majestic) used varied textures to create the desired effect. From the chunky timber detailing and thatched roofing on the gazebo to the granite feature boulders, natural stone surrounds and decorative pebbles, the look is highly evocative, conjuring up thoughts of hidden lagoons and bushland retreats.
This is a pool designed to be enjoyed whether doing laps or lazing about nearby. Multiple levels around the pool create interest and if you need a place to sit and relax, or a vantage point from which to view the pool, you have several options.
To provide a finishing flourish, lush tropical planting was used as a backdrop to the new pool. The combined effect is a new pool and outdoor living area that is as pleasing to the eye as it is easy to use.
Headed by Andrew Jakovac, the team of designers at Majestic Pools work hard to maintain the company's outstanding reputation for dedication, quality work and customer care. "Our designers go to great lengths," he says, "to ensure that each pool they create suits the character and style of the home.
When we begin work with a client we have an initial visit where we discuss the client's needs, scope of works, and product preferences. When we have a good idea of what the client wants and needs, we then come back to them with our concept design presentation. We then fine-tune our design (if necessary) and make final product choices," says Andrew. This attention to detail and passion for their work certainly shows in spectacular pools such as this.