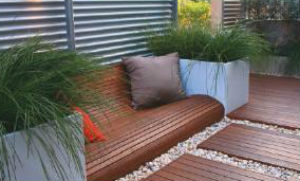 Drawing on its industrial setting, this rooftop garden is a marvel of modern design
Designer Alex Haskey of Green Rooms Gardens & Landscapes drew his inspiration for this inner-city roof garden from its location in the still somewhat industrialised Sydney suburb of Waterloo.
The existing garden was barely used, but thanks to its large size it offered plenty of potential. The key to making the most of this formerly neglected space was to produce a confident, contemporary design to satisfy the owners' needs and the constraints imposed by the garden's rooftop location. To achieve this, a number of key elements were installed, each complementing the other.
The pergola is a vital part of the design as it provides a more intimate feel for the main dining area and reduces the view into the garden from those apartments situated on upper floors. The pergola also made it possible to hang feature lights above the table, creating a real feeling of an outdoor room. Galvanised-steel was chosen for the construction of the pergola, as the modern metal look blends seamlessly with the industrial-style surroundings.
Storage was installed using a sliding door system with a roof and extensive shelving, all of which was painted to match the building. This has really helped to clear the apartment of the inevitable overflow of bits and pieces that never seem to have a home and is now a feature rather than a distraction.
Custom-made troughs were incorporated, primarily around the edge of the garden areas, and house a wealth of architectural foliage plantings. These provide screening and interest in equal measure. Three troughs were set aside for the owners to plant up as a kitchen garden, thereby creating a further link between the apartment and the garden. The troughs themselves were also used to bring a splash of colour into the scheme with orange providing a dramatic, unifying focal element to the contemporary outdoor space. All troughs and pots have been installed with a drip irrigation system for ease of maintenance.
One of the most delightful features is the built-in daybed. Of undulating shape, it is clad in hardwood and when flooded with cushions becomes the owners' favourite place to spend a lazy afternoon. As the daybed is situated between two large planters, this is also a private space away from neighbouring windows.
Lightweight hardwood decking was laid to update the existing tired tiling, giving the garden a look of natural warmth.
The overall space works on a number of levels. It sits perfectly with its industrial environs and is now the most used room in the apartment.
Project details
Landscape design by Green Rooms Gardens & Landscapes 43 George Street, Paddington NSW 2021 Phone (02) 9662 8188 Email alex@greenrooms.com.au
Website www.greenrooms.com.au Photography by Peter Brennan