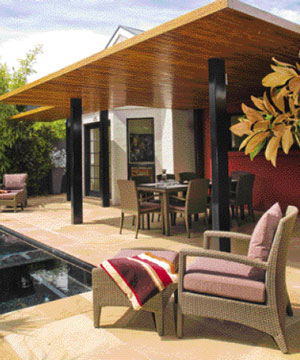 Dining alfresco is easy with a designated outdoor dining room
Words: Natalie Raad
Like the rooms inside our homes, the outdoor room serves a particular purpose, or in some cases, several purposes. This is true of the outdoor dining room, which not only provides a practical place where we can consume food but also serves as a social magnet, bringing friends and family together. And with the added bonus of being in the natural environment, the outdoor dining room enhances the pleasure of eating in the open air and has today become one of the most popular outdoor living spaces.
In outdoor dining rooms, the atmosphere around the table is just as important as the food being served on it. Whether it's tucked into a covered patio with an intimate feel or arranged on a terrace or rooftop to take advantage of surrounding views, the outdoor dining room is all about the atmosphere created when people come together to enjoy a meal, laugh, converse and share.
The humble barbecue has long been part of our outdoor spaces. But rather than barbecue food outside and then bring it in to eat, today's barbecues are more often than not located beside a fully equipped dining area, enabling food to be cooked and eaten outside. And with the emergence of outdoor kitchens, outdoor dining facilities have today become a given in outdoor rooms.
An outdoor dining room is similar in nature to its indoor equivalent. It features a table and chairs and in most cases is positioned adjacent to the kitchen or cooking area. Unlike the indoor dining room, however, which usually has a whole room dedicated to it, the outdoor dining area is likely to be just one part of a bigger outdoor room and thus has a lot less space to work with.
Although the dimensions of your outdoor room will determine the size of the furniture for your dining area, space shouldn't be regarded as a hindrance when creating an outdoor dining room. With many clever built-in features and slimline furniture available, any space can be transformed into an alfresco dining room.
Outdoor dining rooms can be simple or lavish affairs. Whether it's a grand set-up for a formal dinner or a low-key space for impromptu lunches, your outdoor dining room can be designed to suit your individual needs and lifestyle requirements.
Given most outdoor rooms are geometrical by nature, it makes sense for your dining table to be geometric, too. Not only will this create a sense of unity, but rectangular tables also allow for the greatest diversity in seating arrangements. Dining tables can be fixed to the ground or moveable, and what you choose will depend largely on the space you have and the style of your outdoor room. If space is a concern, a moveable table that can be stored when not in use is the best option. If you have an abundance of space, you can create a designated dining area that remains in place even when it's not being used.
When it comes to seating, the available space will largely dictate what chairs can be used. If you have a large outdoor room, you're spoilt for choice when it comes to choosing chairs for your dining area. If, however, you have a smaller space, stools make a good seating option. Ottomans and beanbags are also good choices if you're looking to create a more relaxed dining experience outside.
However, when it comes to seating, you can't go past benches for the space-savvy outdoor room. While free-standing chairs will eat into your precious space, benches can form part of the perimeter and won't intrude on the area. Benches are also the best way to keep your outdoor room looking clean and uncluttered.
It's recommended that benches be 450mm to 600mm wide and 420mm to 550mm high. When the table is placed, there should be no more than 150mm between the edge of the table and the edge of the bench to ensure diners won't have to lean in too far or find the seating arrangements too tight.
It's important for your outdoor dining room to be sheltered so you can make use of the space no matter what the weather brings. This shelter can take the form of an umbrella or awning or a more rigid structure such as a pergola or gazebo. Not only will adequate shelter protect you while you're dining, it will also shield your outdoor dining furniture from the elements.
You should, however, choose outdoor dining furniture that is weatherproof, durable and sturdy enough to withstand any kind of weather. This, however, does not limit your choices, with today's outdoor furniture available in a variety of materials and finishes designed to suit any style and climate. For coastal and seaside settings, salt-laden winds will corrode metal fixings and framings. Opt instead for stainless steel or galvanised steel with a paint finish.
A popular trend at the moment is furniture made from woven synthetic fibre that is fashioned into curved, moulded forms designed to fit comfortably to your body. Metal is also very popular for those who want a minimalist style. Metal-framed timber furniture is a good choice, especially when used for tables and teamed with bench-style seating. Timber is an all-time favourite that will never go out of fashion. Designs range from the rustic-charm look to the more streamlined, contemporary setting.
With style, form and comfort in mind, architecturally designed pieces are becoming more and more common in outdoor living spaces. This includes furniture made from plastic as well as synthetic materials. Whether it's sleek and of outdoor furniture will add character, and a bit of fun, to your outdoor dining room.
Once you've decided what furniture to use for your outdoor dining room, some thought needs to go into the positioning of the pieces outside. Things to consider include where the sun falls throughout the day and the impact the elements will have on your outdoor experience. There's nothing worse than being blown away or being fried under the heat of the sun while you're trying to eat a meal.
Lighting is another factor to consider when creating an outdoor dining room. The right lighting will create ambience and help set the mood for your dining area. While bright lighting is best for the cooking area, subtle and atmospheric lighting is recommended for the dining room. Lighting is also particularly important if you plan to use your outdoor dining room at night — and why wouldn't you want to dine alfresco in the evening — with the stars up above, and friends and family gathered around the table eating, there truly isn't a better way to dine than in your very own outdoor dining room.
DINING ROOM DESIGN TIPS
• Locate your dining room close to the preparation area, whether it's an outdoor kitchen, barbecue or wood-fired oven, to create an integrated outdoor dining experience. This will also enable the cook to socialise with guests while preparing the food, and make serving dishes easy.
• Consider subtle lighting for your outdoor dining room to set the mood and create an inviting ambience. While the cooking area will need bright lights, the dining area can be more atmospheric so that a comfortable setting is created for guests to enjoy the meal.
• T Think comfort when designing your outdoor dining room. Ensure furniture is comfortable as well as weather-proof, that there's some form of heating for those cold, wintry nights and that some shade structure is in place to combat gusty winds, or hot summer days.