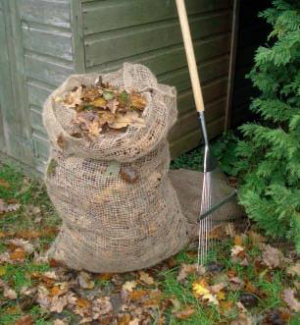 Harvesting vegies, raking up leaves, spreading mulch … there's plenty to do in the winter garden

By Jacki Brown
• First of all enjoy: The depths of winter may seem like a good time to stay rugged-up indoors and forget about the garden, but there are still things to enjoy in the great outdoors, whether it be the sight of frost on green leaves, the papery swish of dry grasses or the warm feeling of satisfaction after a day of physical work in the garden.
• Convert lawn areas: Turn lawn areas into garden beds by removing the grass while the growth has slowed. Ensure that the grass is completely removed before adding plants so that you don't end up with grass and weeds popping up throughout the garden.
• Get the mulching done: Mulching is heavy work and when the weather is cool it's a perfect time to get it done.
• Go bargain shopping: It's a great time for bargains at your local nursery or garden centre, as stock is cleared when it finishes flowering or loses its autumn foliage.
• Harvest vegetables: Winter vegetables are perfect for hearty winter stews and are ready to be harvested in winter, for example garlic, Swiss chard, carrot, radish, bok choy and Chinese cabbage.
• Winter flowers: Add some winter-flowering plants such as correa, grevillea, banksia, hakea, camellia and bird of paradise for colour. Daphne has sweet fragrant flowers in winter.
• Build a greenhouse: Consider a greenhouse to extend edible plant-growing into the colder months. Vegetables suited to simple greenhouses include broccoli, cauliflower, spinach, parsley, garlic, beets, turnips and cabbage. Flowering plants will also survive the cold inside a greenhouse to give some winter cheer. The greenhouse should be located somewhere that it will absorb the winter sun throughout the day.
• Feed the birds: Plants that have berries and seeds in winter act as an alternative food source for birds during winter who would otherwise feed on and help the spread of weeds such as privet and cotoneaster.
• Ornamental grasses: For winter interest, plant ornamental grasses with colour contrast. Winter-flowering cherries also add colour.
• Rake up leaves: Clear fallen leaves from lawns and paths and put them onto garden beds as mulch so they don't smother the lawn or make paths slippery.
• TLC for tropical plants: Bring tropical pot plants inside or undercover to avoid frost damage over the coldest months. Frost tender plants are usually the ones with broad, lush leaves.
• Care for orchids: Bring Cymbidium orchids inside while they are flowering and enjoy the floral display.
• Alfresco heating: Outdoor heaters can extend your enjoyment of your outdoor space year round. There are various types and sizes — gas pedestals or burners, coal braziers, fire pits or wall-mounted radiant heaters.
• Enjoy winter sun:• Relocate garden furniture to a spot that receives winter sunlight and soak up some vitamin D.
• Compost care: Remember to turn the compost heap to continue the composting process. This needs to be done regularly throughout the year.
• Clean garden equipment: Service and clean the mower and other garden tools while they're not in use over winter.
• Install rainwater tanks: Now is a good time to install rainwater tanks to make the most of the rainwater to come and so you have plenty of water come spring.
• Do the weeding: Don't forget to pull out weeds during winter so they don't spring forth once the weather starts to warm up.
• Fertilise garden beds: Slow-release fertiliser or manure should be added to garden beds in late winter.
• Pruning roses: Prune roses late in winter to prepare for the spring flush of flowers. Use sharp secateurs and a good pruning saw.