When seeking to create a special kitchen, it's often easiest to choose one element within the space that will become the main feature and use it as the starting point for the design and that's exactly what happened with this stunning room.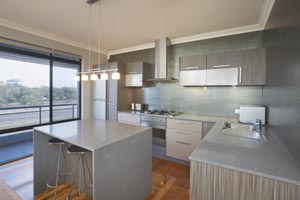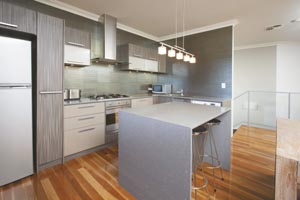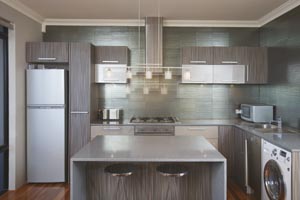 Distinctive metal Argento pav rectified tiles were chosen from Select Solutions Tiles Bathrooms Kitchens for the unique splashback. The owner then based all her other selections for the kitchen on this dynamic tile with the Starlight Grey Quantum Quartz benchtops adding extra sparkle to the space. Combined with the Bouari gold high-gloss cabinets and matching brushed aluminium handles, the kitchen simply shines.
The glistening fixtures are illuminated by expertly positioned downlights and drop pendants. The resulting metallic sheen creates an expensive-looking kitchen that is sure to impress family and friends.
Boasting a host of shiny stainless-steel appliances and innovative storage options including a handy pull-out pantry, the kitchen not only looks good but is functional too. Equipped to serve the masses, the kitchen's design also incorporates laundry facilities within the area. Cleverly concealed in the layout, the laundry is definitely an added bonus to this spectacularly executed space.
Completely satisfied with the final product, the owners certainly agree that there's nothing secondary about this kitchen!
DOORS Built by Merenda Cabinets in a mix of high-gloss doors made from Bouari gold gloss colour by Albedor; Fudge Stream Laminex and Pearlescent Platinums used for overheads
HANDLES Silver square contemporary brushed aluminium
BENCHTOP Quantum Quartz Starlight Grey
SPLASHBACK Metal Argento pav rectified 305mm x 305mm tiled to ceiling
PAINT Scallopini
LIGHTING Downlights over island bench and in cabinets, drop pendants on rails
APPLIANCES include a Smeg oven and cooktop, Blanco dishwasher and LG front-loader washing machine
COST, approximately, for design, manufacture, installation, appliances, plumbing and electrical, $30,000