With a project title of 'the jewel box', this bathroom was designed to be a blissful, luxurious space with a nod towards French design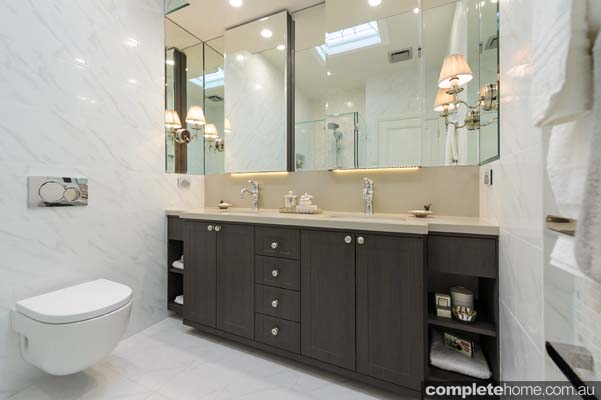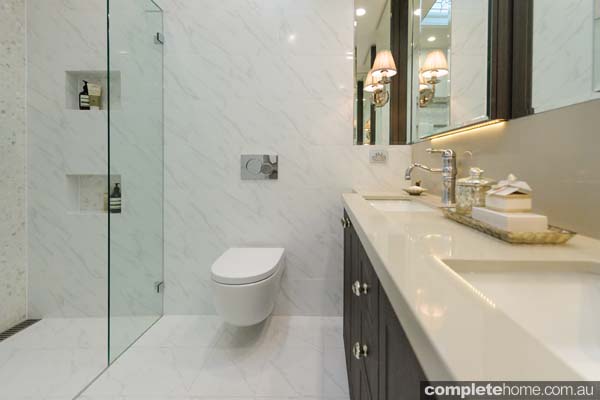 "It was created to replace a confined and ageing bathroom, with the owners requesting a room that utilised all the available space. Another key consideration was lighting: it needed to be bright. Before the bathroom could be transformed, building work such as waterproofing was required. Then the two existing windows were replaced by a customised skylight, allowing unobstructed natural light.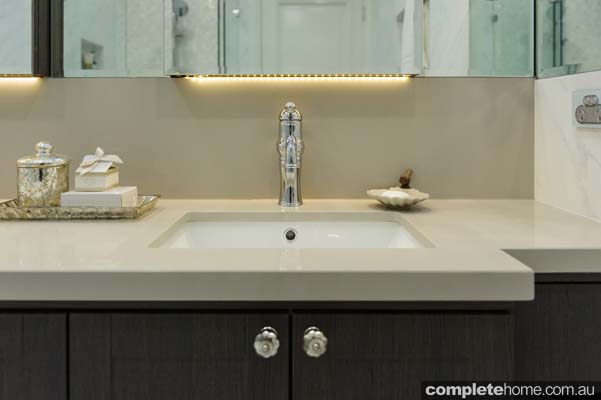 Extensive use of strategically placed mirrors also enhances light and space. Energy-efficient LED strips were applied to the underside of the overhead mirrored cabinet which, together with the ceiling-mounted LED downlights, provide an abundance of task and ambient lighting. Recessed mirror cabinets with finger-pulls offer plentiful storage, and the floating vanity maintains the character while saving space.
The shower has two recesses: one for the adults and another for younger members of the family. It was here that attention to detail was taken to extremes: one of the mosaic tiles on the panel didn't match, so each was removed by hand and replaced. The shower glass has been extended out to the maximum width and the swing door was changed to the opposite side, creating another illusion of space.
The towel rail is also hidden in a recess and has a timer for energy efficiency. Finishing touches include a hidden toilet roll holder and secret drawers, as well as a pull-out laundry hamper. This project was HIA Victoria's Runner-up for Bathroom Design in 2014 and also KBDi Victoria's Finalist in Bathroom Design."
Designer: Sam Robinson for Sam Robinson Interior Design
SHOP THE LOOK
Vanity Cammeray EM9 door profiles, Polytec Thermolaminated doors in Grey Oak Natura
Vanity top Stone Italiana
Handles Mercury glass
Basin Cibo Lavabo 3 undercounter ceramic
Shower Nostalgia single-lever shower mixer in chrome with white handle, Nikles Pure 140 Techno 300 Twin Waterrail in stainless steel, glass 180-degree swing door, toughened glass frameless shower screen
Taps Nostalgia single-lever basin mixer in chrome with white handle
Tiles 300mm × 300mm rectified ceramic in Calacatta marble to floor, Mother of Pearl 6212 mosaic tiles to recesses
Mirror 20mm bevelled-edge
Toilet suite Roca Meridian wall-hung pan with soft-close seat, Geberit Sigma 75 in-wall cistern, Geberit Sigma 01-3S flush buttons
Lighting LED strip lights in Warm White, polished nickel, 70mm downlights
SHOP THEIR SHOWROOM
Sam Robinson Interior Design
0412 234 860
Originally from Kitchens & Bathrooms Quarterly magazine, Volume 22 Issue 1