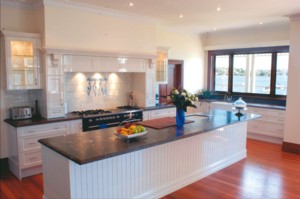 Used as a building and architectural finish throughout our homes, natural stone has been the preferred building product for more than 2000 years. As borders dividing one country from another are now being torn down, it has made it easier for Gitani Stone to source stone from quarries all around the world. Unlike man-made stone, Gitani natural stone can be used for internal and external applications. It is also suitable for installation on floors where underfloor heating is used.
Gitani natural stone is custom-cut for your application regardless of it being a floor, wall cladding or a simple kitchen benchtop. The uses for Gitani natural stone are limited only by one's imagination. In this instance, natural stone can highlight an entire space, adding value and beauty to any kitchen. Although it is the look of this marble surface that makes it so popular, it has a practical element too. One of the best reasons to have stone in your home is that it's a resilient surface that's not easily ruined. Gitani Stone, which has been in business since 1974, ensures a high-quality product that comes from reliable sources at the quarries. The stone they import has been selected from deep within the quarry. Other suppliers will tend to source the cheaper surface quarried stone that will have the same look but with inferior technical properties. The selected blocks of stone will then be shipped to Italy, toreputable suppliers, where the stone is graded, vacuum-sealed, cut and then mechanically polished and calibrated. This, too, is a costly process but is the only way to prepare stone for it to be here long after we are gone. The cheaper alternative (which Gitani Stone is currently trying to have banned for use on kitchen benchtops due to its toxic properties) is to polish the stone using chemical lacquers. With so many stones to consider, it is important to be able to get the complete and unbiased product information prior to making any selection.
By choosing Gitani Stone for your project, you can be assured you will know all the facts about any stone you decide to use. No matter what your selection, you can be assured it will be right for your application. Gitani Stone claims to be Sydney's first environmental and user-friendly stone factory. It has invested heavily in a purposebuilt stone and water recycling plant and multi lifting stations. This allows for a safe and clean customer viewing area and staff work area. Stone finishes at Gitani Stone are endless in number. State-of-the-art machinery and hundreds of years (cumulative) of stonemasons' experience make it possible for Gitani to create your unique project with an unsurpassed assurance of quality. Gitani Stone was and still is the only company known by CaesarStone® to be able to successfully "bend" the stone, and is currently the only company in Sydney creating the leather-grain finish. George and Jason Gittany have invested many hours of research and testing in the field of natural stone to further push their name to be the leading stone company in Sydney and abroad.
For more information, visit the Gitani Stone website.