There was a time when a fireplace appeared in every home and much of daily life would revolve around it. Fireplaces then were the natural focal point where the household would gather to work and relax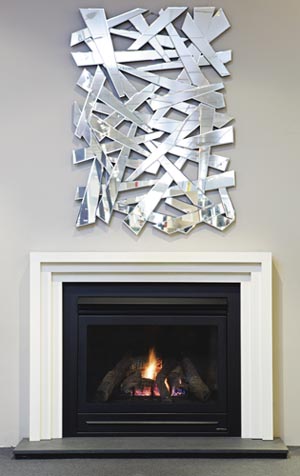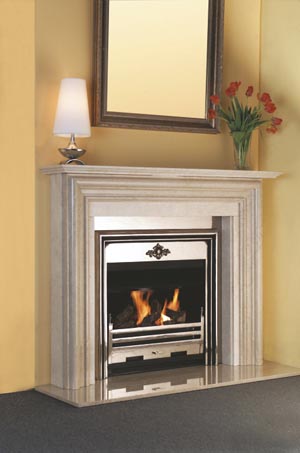 The form and function of the modern fireplace has certainly changed from times gone by. Lifestyles now are very different, as are building styles and decorating trends. Technology has also had its part to play, replacing many of the functions and forms of those early simple fireplaces.
Today's fireplace might be a faithfully reproduced classic piece in a renovated Victorian villa and equipped with a decorative gas burner. It could also be a minimalist module with high-efficiency gas heating or a spectacular suspended cantilever system that appears in a sleek, modern inner-city apartment or a funky seaside weekender. But what has remained the same is the ability for a stylish fireplace to contribute a unique quality to the decor and ambience of a space.
Nicholas Agnew, managing director of Agnews Fireplaces, commented, "The decision to include a fireplace is a decision to resolve factors other than just heating. Whereas other forms of heating are largely invisible and do their job in the background, a fireplace is a focal point and central to the decorating mix.
"A fireplace always has a strong presence within the room, even when it is not burning. It is that aesthetic impact that a fireplace has on the space and the ambience it creates that will appeal to many homemakers. Including a fireplace is a decorating and, to some extent, a lifestyle decision that looks beyond just space heating.
"The most commonly used fireplaces are open-flame fire boxes and sealed fireboxes where the flame is contained behind a glass panel. Both forms are available in gas-fired or wood-burning formats. The technology and efficiency of the modern gas firebox is just so good these days. With the flick of switch, or even the press of a remote-control button, a gas fireplace will spring into life, delivering rapid heat with fan assistance to distribute warmth.
"And the flame patterns of the modern gas fireplace can be quite spectacular with an ability to adjust for high and gentle simmer flames. It's the simplicity and effectiveness of a gas fireplace that make it a popular choice."
Wood fireplaces
"Wood fireplaces are a very different experience," explains Nicholas. "Gathering the fuel, coaxing the fire to start and stoking the fire are all very hands-on. It is something of a ritual that connects people with experiences and places in their lives.
"Selecting a wood fire in preference to other high-tech systems is more about a lifestyle decision. And then there is a unique heat that comes from a wood-burning fireplace that makes you feel like it is warming the bones. We encounter a lot of passionate fans of wood-burning fireplaces who wouldn't consider anything else."
New innovations
"It is an exciting time in our industry as new products are coming through to respond to lifestyle changes and new building trends," says Nicholas.
He believes Agnews' compact ElectraFyres are a good solution for apartments and areas where building in a fireplace is not possible. Electric-powered heating systems plug into a power outlet and have a real flame-effect display. Either freestanding or able to be integrated into a stand-alone mantel console, they look attractive and effectively heat a medium-sized space. ElectraFyres are a quick and cost-effective solution for a problem space.
"Biofires are set to be the next big thing in decorative fireplace solutions," says Nicholas. "With an increase in apartment and townhouse living, we are often asked to help with fireplace settings for spaces that are not always suited for wood- or gas-burning systems. The development of biofires has given us some interesting new options for awkward areas and upstairs locations where conventional fireplaces can't be fitted."
Biofires are fuelled by eco-friendly ethanol-based fuels. The burner unit is a compact, refillable, self-contained module that contains enough biofuel to burn happily for two to five hours, depending on its size. No smoke or smell is emitted, just a bit of steam and very low levels of CO2 in proportions similar to those contained in air exhaled by humans.
Heading outside
"The clever blending of outdoor spaces with internal living areas to create alfresco zones is an excellent example of the new thinking in home design," Nicholas observes. "We now have a selection of wood and gas-fired heating systems
for use in outdoor spaces. As the trend toward alfresco entertainment spaces gathers popularity, these outdoor heating systems are giving people year-round access to their courtyard and balcony spaces.
"Once the decision about the fireplace system is made, it then becomes a decorating decision. The focus is then on selecting from the terrific array of fireplace furniture available, mantelpieces and surrounds in timber and stone, hearths, grates and fascias to create the desired effect within the space."