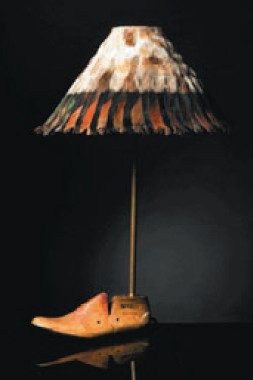 Using artefacts, recycled materials, natural fabrics and even animal feathers, the clever designers at Wombat Hollow Lamps create these spectacular lamps.
All manner of objects have been transformed in a collection of imaginative pieces that create delicate but at the same time industrial looks. Building equipment such as vices, oil cans, planers and spirit levels are softened with silk shades, while naturally shedded porcupine spines and duck feathers are teamed with wooden cobblers' shoes and pulley wheels from shearing machines.
The materials are cleaned and brought back to life but marks and blemishes are kept to tell the story of the artefact and the people who used it. The lamps are a completely original concept that creates feature lighting that gives an edge and a fascination to a room.
For more information contact Wombat Hollow Lamps on 02 4888 2011 or visit www.wombathollow.net.au