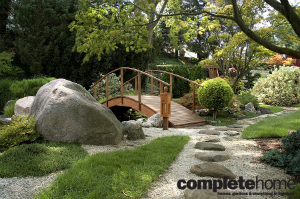 This front garden was designed to explore the various effects of light and colour at play
Story: Mark Bruwel
Photos: Bruce Usher
To me, there are three types of front gardens: those that intimidate the visitor; those that are a passageway or transition from the road to the front door; and those that can actively be used for recreation and relaxation. This beautiful garden in Killara, Sydney, falls into the second category.
Although the majority of front gardens in Sydney are basically transitions from the road to the front door, there is no reason why they can't be intriguing, even magical. Heading down this design path was made easier, of course, by the fact that the front door to the Federation house is actually on the side of the house, therefore on arrival the visitor already has their senses heightened as they wonder "Where is the front door?"
The understated side entrance meant a move away from structured symmetry was possible, so to help enhance this journey I decided to draw on the influences of Impressionism.
The term "Impressionism" first appeared in the 1880s in France with its greatest art exponent Claude Monet. What is perhaps not as well known is that Monet was just as highly regarded as a garden designer and plantsmith in his time. His stunning garden in Giverny is said to be the most visited garden of its size in the Western world.
But back to this Sydney garden. On a subtle underlying structure of a relaxed, discreet cross axis, a play of light, quiet shadows and a hint of water travel with the visitor as they make their way from the road to the entrance.
The often overlooked pastels of the mighty Sydney blue gum (Eucalyptus saligna) are harmonised with a delicate play of light, colour and texture from the weeping cherry (Prunus subhirtella var. pendula), Thuja occidentalis 'Smaragd' (a cone-shaped conifer), Austromyrtus inophloia 'Blushing Beauty', Heliotrope 'Lord Roberts', Renga Renga lily (Arthropodium), Buxus sp. Marguerite daisy (Argyranthemum frutescens), gardenias and Autumn crocus (Colchicum speciosum).
The overall effect is soft, seductive and brimming with street appeal.
About the author: Mark Bruwel is a Sydney-based garden designer and founder of Garden Symphony.