Global warming, climate change and sustainability are words we hear regularly these days, but what do they mean for home owners or home buyers? David Hallett, general manager, Southern Region of Archicentre, puts the spotlight on sustainability.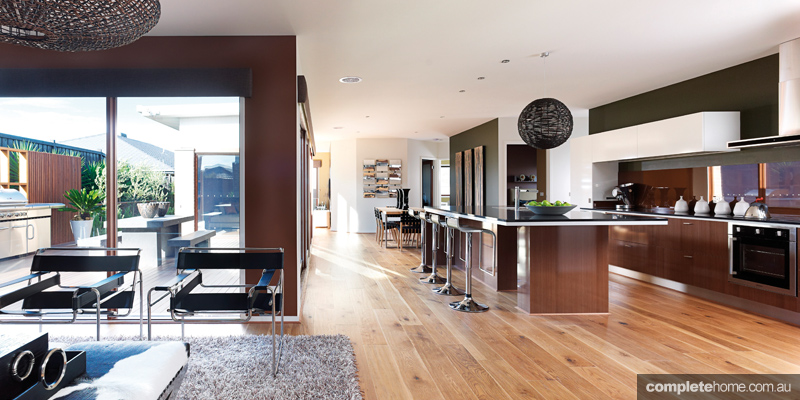 Pictured here is Australia's first zero-emissions house, the AusZEH. This example suggests what's quickly becoming quite mainstream: double glazing, wall and roof insulation, water tanks and recycling, solar panels for energy and optimum site orientation.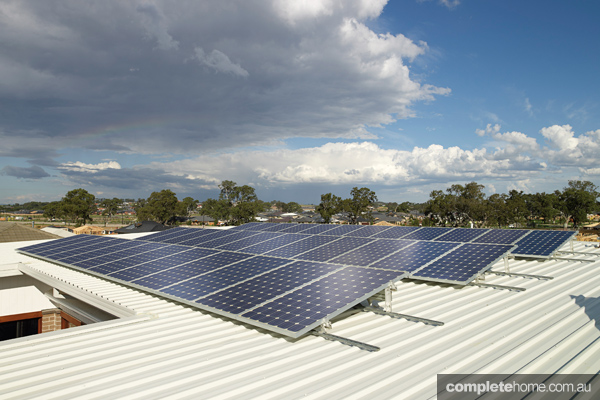 Solar panels were installed in Australia's first zero-emissions house, the AusZEH.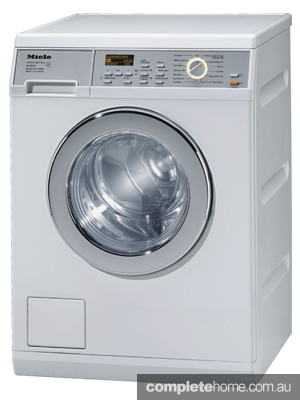 With its 7.5kg capacity and Miele's patented Honeycomb Care drum system, the Miele W 5943 WPS EcoComfort Washing Machine gives focus to a host of efficient and intelligent features. miele.com.au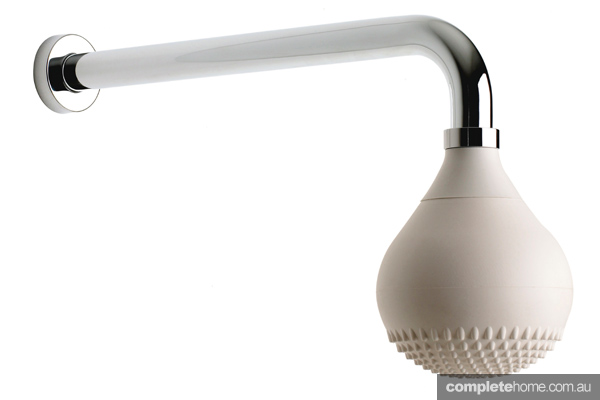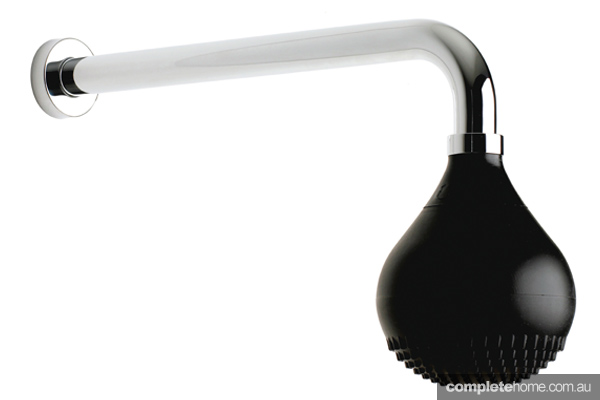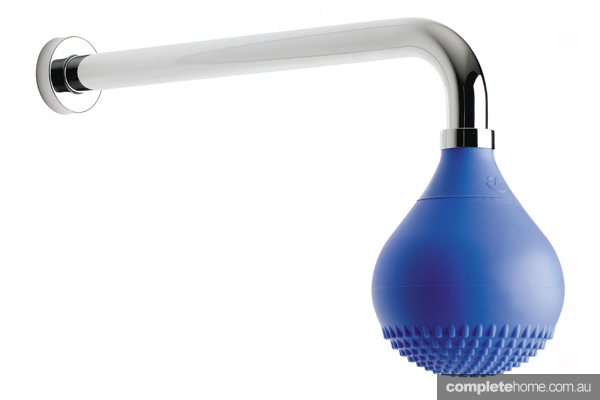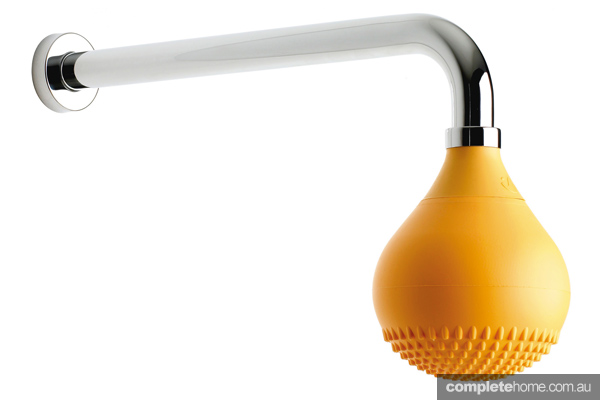 Designed by Italian industrial designer Giulio Iacchetti, the DROP shower from Paco Jaanson is revolutionising the way we shower. As it's made from silicone — the latest rage in Italian bathroom design — this new eco-friendly product for the bathroom has a high resistance to oxygen, ozone and sunlight. It's fitted with a flow restrictor, limiting the amount of water you use per minute. Remember, every drop counts. pacojaanson.com.au
Why sustainability is important
A sustainable home is one that is more comfortable and healthier to live in, saves you money on water and energy bills and is constructed using environmentally efficient materials, thereby reducing its environmental impact. According to Archicentre, the building advisory service of the Australian Institute of Architects, a sustainable home will meet your changing needs throughout all your life stages.
David Hallett, general manager, Southern Region of Archicentre, says sustainable homes are resource-efficient and save money. They incorporate passive-solar design features such as optimum house orientation, good ventilation, insulation and shading, water, waste and energy efficiencies, as well as the appropriate selection of building materials. Careful house orientation can maximise the passive solar design features that bring warmth to living areas in winter and shade protection in summer, reducing the costs of heating and cooling a home.
With soaring energy costs, energy savings have become a major consideration for all renovators. Sustainable homes start with good design features, the use of low-maintenance materials, form, layout, construction system and landscaping. Archicentre architects are experts in building design and leaders in designing sustainable Australian homes.
Renovating an established home
According to David Hallett, "Most established homes were neither designed nor built considering energy efficiency or water conservation. Ironically, many of our earliest homes came complete with verandahs and water tanks, but these features have long been abandoned while homes have become bigger, more energy-hungry and more water-thirsty than ever before. Our challenge is to try to improve the performance of our existing homes, to reduce the home's demand for energy and water but at the same time maintain or improve our quality of life."
Archicentre architects undertaking renovation design reports for home owners are finding their clients have an increasing awareness of the need for sustainable design.
A recent survey of Archicentre customers found:
Approximately 80 per cent of our architects' clients were keen to install a solar-boosted hot water service
Approximately 75 per cent were interested in energy-efficient lighting
Over 90 per cent wanted a water tank
Many people are concerned enough about the environment and/or informed enough about the ongoing cost savings to spend money on energy- or water-saving home improvements, but don't know where or how to start.
Quick tips to improve your home's energy efficiency
Fix leaky taps, showers and toilet cisterns
Turn off lights when you leave the room
Don't leave computers or appliances on standby
Re-set the thermostats on your heating and cooling — 18° in winter and 24o in summer
Install low-energy light globes
Fit weather seals to your windows and doors
Install external blinds to control or block out sun
Put in ceiling fans
Change to low-flow shower heads
Plant a drought-tolerant garden
Checklist improvements for your home
Insulate the ceiling
Buy high star-rated appliances
Install solar panels
Replace your toilet cisterns to dual-flush cisterns
Upgrade your heating system to a more efficient design
Put in a water tank
Upgrade your hot water service
Fit a grey-water diversion system
Upgrade your windows using double glazing or other high-tech glass
Build a pergola or verandah to provide shade when needed
Finally, if you're planning to renovate, make sure it's properly designed! Archicentre Architects understand the importance of orientation, zoning, construction and ventilation and can design you a home that will be comfortable to live in, inexpensive to run, cost-effective to build and will add value to your lifestyle and your property's value. Talk to us about your renovation!
Top 10 tips to home water-saving improvements
1.    Rainwater tank (approx. $2500-$4000)
2.    Downpipe diverters (approx. $300-$500)
3.    Greywater diversion system (approx. $2000-$3000)
4.    AAA-rated shower head/s (approx. $200-$300 each)
5.    Dual-flush toilet cistern/s (approx. $500-$800 each)
6.    Flow reducer on meter (approx. $300-$400)
7.    Low-flow tap/s (approx. $600-$800)
8.    Fix leaking fixtures (approx. $200-$300)
9.    Water-efficient appliances (approx. $1000-$2000)
10.   Drip watering system (approx. $300-$500)
A cost guide to budget for sustainable home improvements
Archicentre has prepared a guide to help people understand and budget for sustainable home improvements. archicentre.com.au/images/stories/pdfs/Archicentre-Cost-Guide.pdf The guide can be used as a short-term "shopping list", for example, or to plan longer-term improvements. Perhaps both!
These estimates are based on the installed cost of a variety of common household upgrades. The message is simple: make improvements now and reap the savings in the long term. For more information, visit www.archicentre.com.au
Originally from Home Renovation Ideas magazine, Volume 1