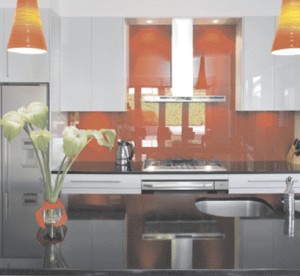 It's been more than a hundred years since this room looked so good.
Over a century has passed since this home was first built and, as the years passed, its kitchen has evolved with the times, but this latest incarnation from Nouvelle is undoubtedly its finest. As the new heart of the home, it has offered the residence a new lease on life with its striking red finishes and modern design.
The kitchen has not always held such a prime position within the home as it was previously a long, dark and gloomy room running down the side of the house overlooking the driveway. The original client brief had the new project slated for the same space, but after viewing the property it became clear that the site was too restricted and the suggestion was made to relocate and create a large open-plan kitchen and living area. With the decision settled, the project became privy to a wide range of possibilities, all of which were capitalised on by Nouvelle.
A strong focus was placed on ergonomic functionality as the kitchen was carefully designed to deliver easy access from key work zones to all appliances, cupboards, drawers and the walk-in pantry. The project fills the space beautifully with maximum impact and is an entertainer's delight. It might not be what you'd expect for a home more than a hundred years old, but it is a shock to the system for all the right reasons.
This kitchen was designed by…
NOUVELLE
Pennant Hills Showroom
372 Pennant Hills Road
Pennant Hills NSW 2120
Phone: 02 9484 8299
Fax: 02 9484 4948
Willoughby Showroom
152 Mowbray Road
Willoughby NSW 2068
Phone: 02 9967 5622
Fax: 02 9967 5433