Check out the latest international kitchen design trends direct from Eurocucina, Milan's International Kitchen Furniture Exhibition.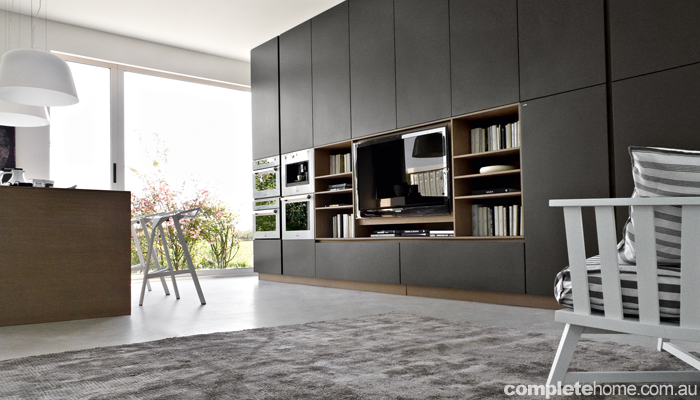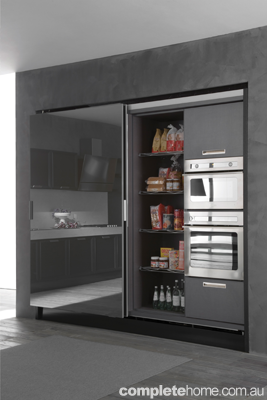 1. No handles and hidden living
With this increase in merged living spaces comes the problem of hiding unsightly appliances. You don't want your living areas to look like your kitchen; rather, you want to blend appliances into the area in a subtle manner. Handles are a no-go, and doors or screens that hide equipment are becoming more popular.
Images: Oven and television sit side by side in the Integra kitchen by Pedini.
The Coplanar door storage system from Rogerseller epitomises hidden living.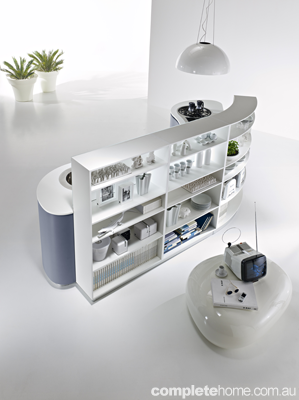 2. Merged living spaces
We spend a great deal of time in the kitchen and a lot of that time is spent doing tasks we would rather not do on our own. The kitchen has evolved into a sociable space where we interact with loved ones, or perform tasks that are much easier accomplished with the help of the television or, better yet, company. Combining living spaces to form open-plan homes is on the rise, so that time in the kitchen is no longer time spent alone.
Image: This stylish and futuristic kitchen by Pedini merges kitchen space and living area.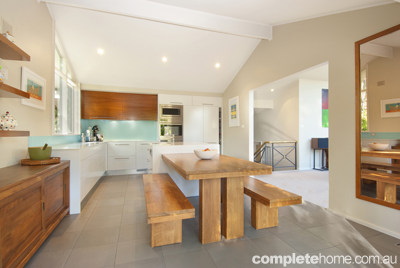 3. Sustainable materials

Those of you who are green-fingered and eco-conscious will be happy to hear that the use of sustainable materials in the kitchen is on the up. Solutions such as stone surfaces and more ecological cement will appear, as will kitchen gardens and herb stations.
Image: The Brindabella Wood Grain Kitchen showcases the use of sustainable materials in the kitchen.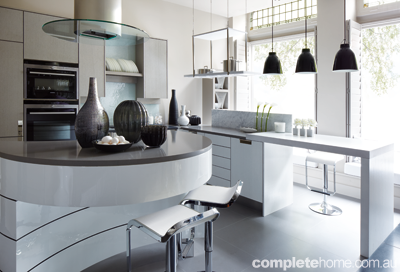 4. Natural colours
An increase in natural colours is said to be on the rise. Beiges, blacks, whites and browns will see a resurgence and there will also be an increase in the use of texture that adds dimension.
Image: Smallbone of Devizes unveils its first collection in collaboration with Kelly Hoppen who chose neutral tones.
By Alexandra Longstaff
From Renovate magazine Vol. 8 No. 5