Specialising in the supply of kit homes for the owner-builder, Ozkit's kit homes are modified to suit the individual needs of customers and are tailored to take advantage of specific sites, views and aspects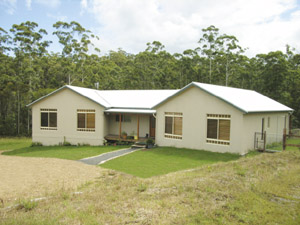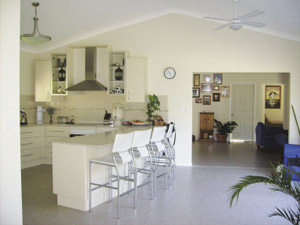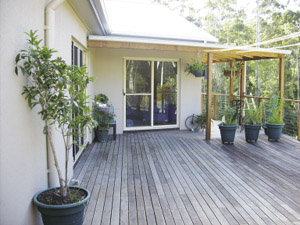 This family-owned-and-operated business offers a number of owner-builder-friendly features. Personalised service starts at the design stage and follows through to advice from qualified tradespeople during construction.
Qualified Ozkit consultants can assist you with all design variations. Once you have chosen the design, Ozkit will have its draftspeople prepare all the necessary plans and a BASIX certificate (in New South Wales), so the plans are ready for submission to council. Making life easier for every client, the company offers a free kit home construction advisory service during construction. A build to lock-up service is also available in selected areas.
To conquer all difficult and sloping sites, Ozkit offers a unique kit steel floor system, which comes complete with engineering details and has now been upgraded to include dressed hardwood joists and beams (air-dried and stabilised), providing a high-quality finish and bushfire compliance, when required. This floor system is customised to suit all Ozkit kit home designs.
The home pictured here is built on a sloping block overlooking a national park and forest, and the home is a modified design from Ozkit's impressive Lifestyle range. In order to create the large hardwood entertaining deck at the rear, the wings of the home have been angled
out, allowing for the deck to be accessible from the kitchen-family area. A bonus of the sloping site is space for a large 4.2-metre-wide garage and workshop area to be constructed beneath the home, which doubles as an additional storage area.
Two separate wings can be found on either side of the kitchen-family area with raked ceilings to enhance the home's spacious feel. One wing provides a living area for children while the other offers a formal living space and secluded haven for parents. With a peaceful study, separate laundry, two bathrooms and four luxurious bedrooms (all with walk-in robes), this home is ideal for a large family.
A covered verandah with hardwood posts and beams leads to the entry of the kitchen-family area, where two wide, four-panel sliding door units allow for expansive views over the deck to the national park beyond. Hardwood is now standard (air-dried and dressed) for all verandah posts and beams, and Australian species hardwood decking is now available as an upgrade from Ozkit's own milling facility.
Other standard features of this home include its 2.7-metre ceilings, 26-degree roof pitch, a split roof line and 1800mm-high windows.