Editor-at-Large for Grand Designs Australia magazine, and host of Lifestyle's Grand Designs Australia, Peter Maddison answers readers' questions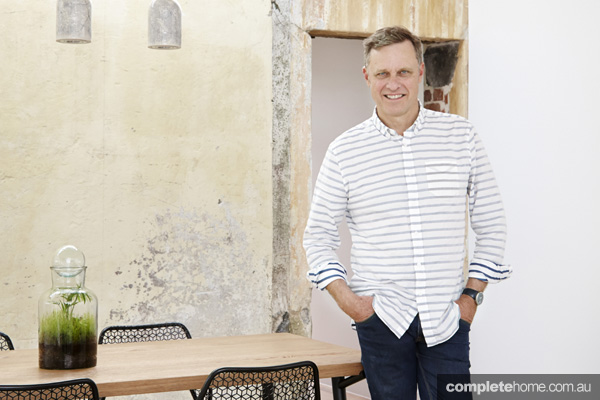 Question: We are a family of four living in a small three-bedroom, two-storey terrace house in Paddington, Sydney. Our house is a modest 180m². Our kids are young teenagers, and we are struggling with the small rooms and lack of living space. Should we move out to a bigger home or somehow renovate and make our house bigger? Budget is an issue for us.
Answer: Paddington is a sought-after location and I would have thought that in the medium term, when the kids eventually move out of home, you may wish to be where you are now. Moving can also be expensive, with stamp duty and moving costs. These are lifestyle issues I can't answer.
What I can say is that the old terraces do have spare space in the roof. You can occupy that space easily without the problematic DA issues and hold ups encountered when you extend the property. Spiral stairs are a very efficient space-saving method of accessing this space. You will need a structural engineer to assess your existing roof and determine any reinforcement it may require.
You could also consider multi-use for some of your rooms and installing a galley kitchen. Most apartment developments use this type of kitchen because they're compact. In fact, there are many space-saving tips in apartment design you
could consider.
Question: I'm 28 and have a partner who aspires to build many of the projects you showcase on Grand Designs Australia. Where do we begin and how do we break into this world of design? We have saved $220k and can get a loan for $300k. Our parents own a block of land in Brunswick, Melbourne, and are prepared to subdivide, giving us their backyard to build in. Is this a good idea?
Answer: What a fabulous scenario — I suggest you're very nice to your parents. They are very generous. I think this is a very sensible idea and the way of the future. The key is to design your "house out the back" with its own private entry and exit and visual/acoustic privacy, so you can be independent. I suggest you also visit findanarchitect.com.au. Brunswick is such a cool location, and I'd be surprised if there's not an architect just around the corner that could help you.
Question:   Why should we aspire to grand homes when they are so expensive? It's disappointing there are no well-designed apartments for sale. They're usually crammed in and lack the attention to sustainability and quality of design you get in freestanding houses.
Answer: You make a very good point here. Most apartments are pre-designed and have a certain cookie-cutter appearance. There are some well-designed and sensitive apartment developments in Melbourne. Neometro and Breathe Architecture are two firms doing great stuff. I suggest you jump on the internet and have a look at The Commons project in Brunswick. This development has been designed for a community of occupants and breaks new ground. This is the sort of apartment type you should be looking for. Developers will eventually listen when you vote with your hard-earned cash.
Question: Peter, how much emphasis should we put on sustainability when building the new home in Hobart we are planning? It seems like there are limitless options. It's all very confusing.
Answer: You are correct in saying there are limitless options. The Building Code of Australia will insist on a minimum performance criteria of six stars. It's called Section J, and it has been legislated that every home must conform using a formula that takes into account the number of windows and their glazing type, insulation proposed, water collection, etc. My suggestion is to carefully consider solar orientation and its penetration because Hobart can be very cold. Also, consider some thermal mass where the sun warms up the fabric on your house and re-radiates this at night. A protected outdoor space could also be useful. I recommend going to an architect to help navigate the "sustainable quagmire". Don't forget, the best sustainable houses are the ones that are not only designed well, but are used responsibly in the long term.
Got a question? Need Peter's expert help? Email your queries to homedesign@universalmagazines.com.au
Originally from Grand Designs Australia magazine, Volume 4 Issue 2