Finding and adapting the kit home that best suits your family is only a step away with Kitome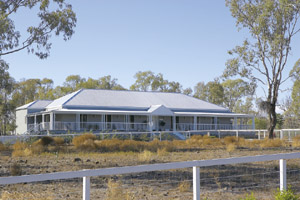 Efficient, helpful and friendly service from the Queensland team at Kitome was a deciding factor when Barb and Glenn Evans chose to build a grand homestead, Rosehill House, at Dalby in the south-west of the Sunshine State. After sifting through dozens of kit home designs, Barb and Glenn set their heart on a Kitome design. This colonial-look design had the attributes they desired, such as a sweeping, timber-decked verandah and other elements that catered to their needs. To suit the whole family, modifications were made to the original design.
The interior is contemporary and comfortable, with heritage touches such as timber flooring and arches in the formal rooms. Mr Evans took a month off work and, with the help of two local builders for about six weeks, the off-the-ground home was at lock-up stage.
Mr Evans is a qualified electrician so he did all the wiring himself and local tradespeople were called upon to do anything the family was unable to tackle. The homeowners had nothing but praise for Kitome and the experts they employed, including plumbers, plasters and carpenters.
With a kit home, owners are usually prepared to put in a lot of hard work and time themselves. By doing that, they find that they can save quite a lot of money. After completing this home and being satisfied with the result, the Evans family are already planning their next Kitome project.
Kitome is renowned for its quality and value, and for making home building as easy as possible. The specialist kit home provider has more than 50 standard designs ranging from one to six bedrooms. All floor plans have been designed for flexibility so clients can tailor a home to suit individual needs. Kitome's highly professional team members will gladly help create an original design to match requirements.
Kitome is equipped to satisfy the most discerning buyer with styles including modern, colonial, loft and federation. Kitome also supplies homes in timber or steel frames.
Australian-owned-and-operated for more than a decade, the company continues to extend its already extensive range of homes and provides ongoing training to its staff to make sure they are at the forefront of the kit home product.

Size: 386 square metres.
Accommodation: Four bedrooms (three with walk-in robes), formal lounge and dining, family room, kitchen with walk-in pantry, storage room, both main bathroom and ensuite with separate toilets, study, laundry.
Construction: Timber, cladding with galvanised iron roof.
Construction time: About five months.