Whether for family fun or escaping the stresses of work, this project has it all.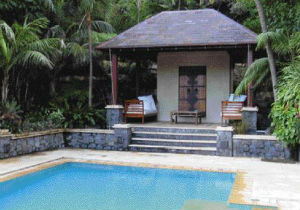 As you walk through this inner Sydney property, you travel through a series of garden rooms designed for relaxing, socialising and exercising, but perhaps the most appealing space is the poolside cabana.
The open-style cabana has been designed as a fusion of contemporary western architecture and eastern resort design and incorporates simple, clean lines and a fully appointed bathroom with linen storage facilities. The cabana, which is surrounded by a moat pond system, is constructed predominantly with recycled timber and boasts a slate roof, reed ceiling lining and magnificent antique doors sourced from a French monastery.
At night, for functional purposes, the cabana is lit by concealed halogen lighting. For ambience, there's energy-efficient LED lighting throughout the garden areas and on the cabana walls, which combine with the naked flames of numerous candles to create washes of light and dancing shadows.
The cabana provides the perfect shaded entertaining area with plantation teak daybeds on which adults can lie and relax while supervising the children in the pool. For family movie nights, there's a large retractable screen incorporated into the cabana ceiling.
From the cabana, broad blond sandstone steps lead to the paved poolside entertaining area where you will find lounges and seating for children. This area is close enough that adults can keep an eye on the children but far enough away that they can chat in peace.
The swimming pool that stretches out in front of the cabana has shimmering turquoise-coloured water that reflects the sky by day and the pool, garden and cabana lights at night. The pool steps and underwater bench double as informal seating within the pool while at the far end there is a water feature that draws the eye from the cabana.
The blond paving around the pool contrasts elegantly with the surrounding gardens, where you fill find numerous tropical plant species, including budda belly bamboo, bromeliads, stripe stem bamboo, moses in the cradle, string of pearls, cycads, temple bloodgrass, frangipanni, Cordyline 'Rubra', Philodendron 'Xanadu', liriope, lilly pilly and kentia palms. The gardens also provide a mix of heady perfumed flowers at various times of the year and authentic sculptures have been utilised to add to the exotic feel.
The overall project, which was designed and project-managed by A Total Concept, integrates the cabana and pool with the various other garden rooms, including an area of lawn and a water court. The result is a seamless blend of garden and outdoor rooms designed to make the owners feel like they are on holiday when they're at home.
Project details:
Landscape design and project management by A Total Concept.
For more information visit www.atotalconcept.com.au