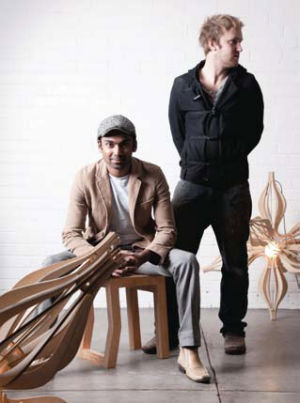 Alex Earl and Gerard Pinto came from very different backgrounds before the world of design brought them to collaborate together on various projects, which led to EarlPinto officially coming into being in 2009.
Alex had been creating things ever since he was young so studying creative arts at the Victorian College of the Arts seemed a "natural thing to do". Gerard, on the other hand, started off wanting to become a doctor. He lasted only a week before transferring into architecture and growing creatively from there. Alex and Gerard first started working together on a retail fitout that Gerard was completing. "One of Alex's lights was above my desk at work and I wanted a modified version. Eventually I found him in a workshop in Fitzroy and convinced him to work with me on the job," tells Gerard. "We worked on a few more projects together, which eventually led us to designing our current range. For something so new we are quite amazed at how positive the response has been."
Prior to joining forces with Gerard, Alex had worked in many different areas before he was drawn to the idea of making fixed objects. "Having a workshop in a fixed location, which can be improved and streamlined, is very satisfying, and the addition of the recently completed showroom adds another dimension," says Alex. "It's fantastic having the tools and space to realise ideas and be able to present them as finished products." With popular items such as the Leaf Pendant and Kink Stool, EarlPinto designs are inherently beautiful and draw inspiration from everywhere. "Sometimes inspiration is quite literal, like the leaf light, while other times it's an evolution over a number of prototypes that seem never-ending," says Gerard. In an attempt to keep things green, all EarlPinto products are offered with the option of FSC-certified timber products, water-based stains and finishes. "We don't work with MDF," explains Gerard. "We prefer to use low-VOC products and we use a lot of recycled timber and tend to salvage bits of everything. We are always on the lookout for old piano legs and verandah posts!" Constantly bouncing ideas off each other is something that Alex and Gerard believe makes life easier and keeps them both in check.
The combination of skills this talented duo shares means they continue to produce inherently beautiful objects, and it is certainly just the beginning. "Together we seem to go all over the place," says Gerard. "Sometimes decorative and ornate and other times quite simple and clean. There seem to be so many things we haven't had time to develop as yet … all on the way!"
For more information visit www.earlpinto.com