There are heroes everywhere in our lives—and also in our gardens. Here's what makes a plant heroic and why you should use them in your garden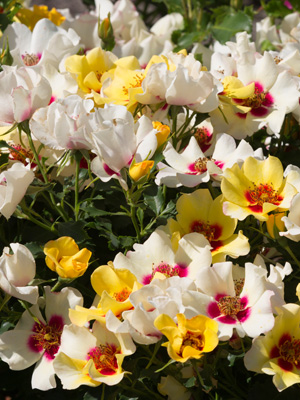 A heroic plant needs to be a stand-out, like these Sweet Spot roses. If you're going to be catching eyes, you need to be gorgeous.
The role of the hero
Every garden is the result of our hard work and the decisions we've made–where to plant and what, what scene we're trying to create. Feature plants step in to do their work, which makes them heroes of the garden.
The hedge hero
A great example of the difference hero plants can make is hedges. A hedge is a line of the same plant, deliberately planted close together to create the effect of a green wall. Knee-high hedges are useful for running alongside a path to direct foot traffic; shoulder-high ones are a great backdrop for a flower filled garden bed; and house-high hedges can be used to block ugly views or create private outdoor rooms. Usually a green dependable plant is selected, and once it's grown into shape, no-one really notices it. But what if you chose a heroic hedging plant instead of something ho-hum? Like a Fairy Magnolia to sweep up alongside your front drive? Instead of just a clipped line of green you'll have a hedge that stops you in your tracks when it covers itself in a mass of lovely mini magnolia flowers. That's the difference a hero hedge plant can make.
If the pink of Fairy Magnolia Blush is not lovely enough there's always Blush's sister, Fairy Magnolia White.
The tree hero
If have a space in your garden to plant a tree you have the opportunity to add a whole new dimension to the garden with just one plant. Clearly a hero is called for, like any of the Jury Magnolias. On the one hand you could plant a classic tree which can be depended on to look classic – an evergreen conifer, or something that loses it's leaves like an oak or a plane tree. Or you could plant Magnolia Felix and be astonished and captivated each spring when it produces its hot pink flowers that are larger than a man's hand. That's the difference a hero tree can make.
If you want a tree to be admired, Magnolia Felix may just be the best option anywhere. It's certainly the one with impossibly large and luscious flowers.
 The front-of-house hero
It's important to make your front door look as welcoming as possible and this is easily done with the right plant. You can create powerful impact with something like a colonnade of standard of tree roses or something like the Flower Carpet roses, which are easy to grow and smother themselves in blooms for most of the warmer months.
Standard or tree roses are a natural stand-out; you can count on a long flowering season from Flower Carpet, here White (L) and Pink (R).
The outdoor room hero
If you're planning on putting a pot plant on an outdoor table it is absolutely vital they look as good as they can. If the plant in the pot is a hero plant – something like a Sweet Spot* rose – then your table is well decorated and ready for a sunny lunch. That's the difference a heroic decorator plant can make.
If you're in the United States you've already seen Sweet Spot (released last season) and been captivated. Now it's the Australian gardeners' turn and they are the lucky ones to spot these extraordinary roses in garden centres for the first time.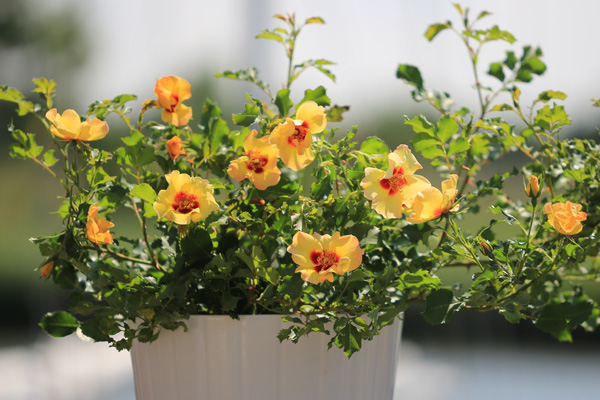 For more information
Anthony Tesselaar Plants
Website: www.tesselaar.com
If you want a tree to be admired, Magnolia Felix may just be the best option anywhere. It's certainly the one with impossibly large and luscious flowers