Find out everything you need to know about designing a vegie garden for your backyard and enjoy the satisfaction of knowing exactly where the fresh produce on your plate has come from.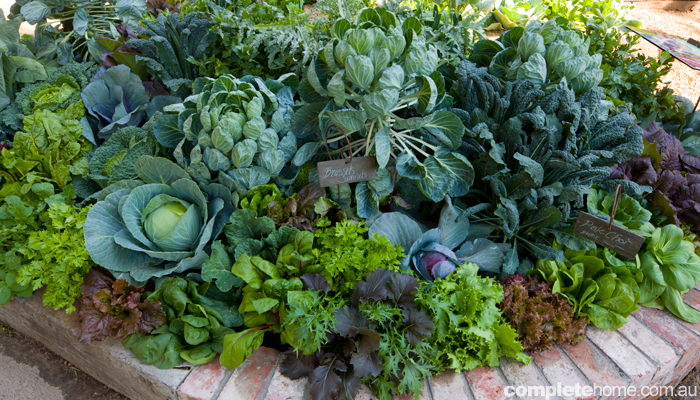 This mass planting of vegies is going to keep the household in supply of a plethora of fresh food. Image courtesy Oasis Horticulture.
If you've decided that a vegie patch will be perfect in your outdoor area, it's a good idea to work out where you want certain foods to be. "When designing the food plant areas, walk through your garden and work out where you would like certain crops to be, for example parsley or basil close to the back door and fruit trees out the back," says Chris Williams, an expert in landscape ecology and anthropology who has a successful vegetable garden of his own.
Steve Bately, of Sydney Organic Gardens, says it's a good idea to start in a small area close to the kitchen (for easy access) and expand from there. "Read about permaculture, attend workshops, share ideas and food with neighbours and join a local community garden," suggests Steve.
Sharing light
Most vegies need at least six to eight hours of sunlight every day, so you need to choose a spot to suit. "Don't despair if there are lots of shadows in winter, as in summer there will be stacks more light and warmth around," says Chris. "Walk around your garden on sunny days in all seasons — really get to understand how the sun's position in the sky varies throughout the year."
If you have any existing trees in your garden that you'd like to keep, remember that planting near these can have an effect on how well the plants will grow. Not only could the tree have a big canopy that will cover any plants beneath it, but it may have deep root systems that travel even further than the canopy extends. "If you have to grow crops near big trees, use raised planter boxes," advises Chris.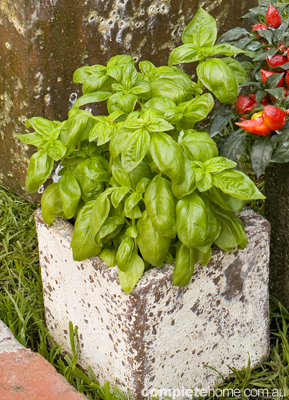 If you have an old pot in the garden, give it a lick of paint to revive it or, as pictured here, leave it as is to provide an old-world aesthetic. Image courtesy of Oasis Horticulture.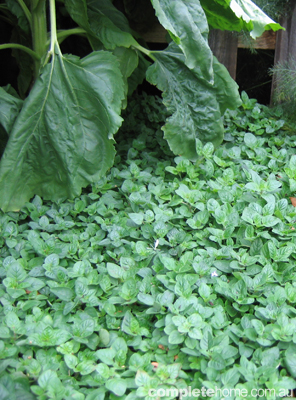 Some herbs can create a spectacular groundcover and can be planted among ornamentals for a wonderful effect, such as this oregano. Image courtesy of Oasis Horticulture.
Get the right tools
Before you get started planting all those garden greens, you need to ensure you have the right tools for the job. You'll be digging, pruning, weeding and watering on a regular basis, so stocking up on the right equipment is the ideal way to ensure your crops are well looked after.
"Good-quality secateurs and a sturdy hand trowel are musts," says Chris. "As are a spade, fork and rake. And don't forget a high-quality, kink-free hose, too."
Head to your local hardware store and ask staff for their advice. "If you don't know the difference between a spade, shovel or mattock, don't be afraid to ask," advises Chris.
Choosing plants
If you're a beginner to growing veg, Chris suggests choosing those that grow without too much fuss. "Potatoes, chokos, zucchinis, radishes, rocket and most Asian vegetables are all great ones to start with," says Chris.
According to Chris, in the southern parts of Australia, mid-September to mid-April is the main growing season, so whatever you decide to grow in autumn, definitely plan ahead for summer. "In fact, you won't regret delaying major plantings so that you can make the most of the best growing conditions in spring and summer," he says. "Grow stacks of broad beans and peas over winter to put nitrogen into the soil for summer crops."
Perennial plants are ideal if you have a decent-sized space in your yard, as usually they are quite large, bushy plants. Try rhubarb, asparagus, seven-year beans and yams or arrowroot — these plants reshoot in spring with little effort, saving you time and adding structure to the garden.
Tomatoes remain one of the most popular foods grown at home. "As heirloom and open-pollinated varieties increase in popularity, backyard growers are trying their hand at tomatoes you will never see in supermarkets, such as multi-coloured types," says Chris. There are many unusual types of tomatoes and other vegies — have a look at your local nursery.
Steve also recommends trying to grow heirloom varieties and says creating a worm farm and composting are good ideas, too.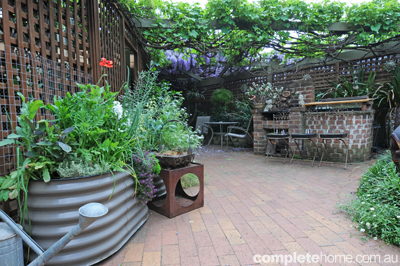 Think outside the square and use different surfaces and objects in the garden to grow your plants on. Image by Diane Norris.
Raise the beds
Raised garden beds are proving to be very popular. Not only do they look good, but they provide a great place for plants that need well-draining soil. Because these garden beds are higher, there's less bending and reaching when tending and harvesting vegetables, putting less stress on gardeners' bodies.
At the moment, steel raised garden beds are proving to be popular. These are readily available at local nurseries and hardware stores or, if you're handy, you could build one yourself. However, raised garden beds can look good in a vegie patch, as they blend into the natural environment well.
Creating the look
Having a vegie garden doesn't mean you have to compromise on the aesthetics of your garden. A little thought in the planning process can go a long way to ensuring your garden won't just taste great, but look great, too. Start with a big sketch pad and draw a map of your current garden. You can then mark out plots and crops as well as paths and other features.
"Food gardens can be aesthetically pleasing and when arranging plants think about colour, form and texture as you would for an ornamental garden," says Chris. "Globe artichokes, for example, have striking texture with big, grey leaves and look fantastic with purple basil or purple orach planted around them."
You don't need to plant your vegies separately to your ornamentals, either. Think outside the square and mix it up. "Try both English and French marigolds in your herb garden or next to tomatoes," suggests Chris. When thinking outside the norm, look to different surfaces for growing edibles, in particular the vertical spaces, such as fences and trellises — you can even try growing climbing varieties on different contraptions throughout your garden.
As already mentioned, raised garden beds are becoming fashionable for home growers; however Chris says many people are also embracing the old-fashioned vegie garden grown directly into the soil. "Or they're designing their backyards as full-scale edible landscapes or food forests, combining food plants with edible species to provide produce, beauty and habitat in one place," he says.
Pots can also be used to house vegies and fruits. There's a wide range of pot styles and colours on the market, so you're sure to find something to suit your garden's style and your taste and budget.
If you've gone through the whole design process and started growing your edibles, you'll soon be rewarded with fresh, quality produce on your doorstep. However, if you're seeing mixed results, don't be despondent; do some more research and try again.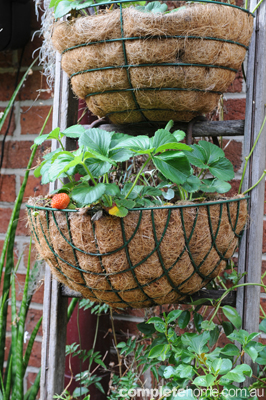 Raised garden beds are seeing increased popularity in vegie gardens throughout the country.
3 simple tips:
– "Think about getting chooks, work on your soil and take time to observe and understand your garden and create a design over time," says Steve. "You'll learn from your mistakes; keep going because growing your own food is satisfying, empowering and fun, and the food you grow will be the best-tasting and most nutritious you can get." 
– "Remember that while good drainage is very important, that doesn't mean all herbs and vegies need to be in raised planter boxes," says Chris. "Normal garden soil and beds will do; just ensure you add plenty of manure and compost."
– Find a good source of mulch to retain moisture and suppress weeds. Pea straw and lucerne hay are good examples and can be found at pet food stores.
From Great Vegie Gardens magazine Vol. 1