Inspiring lighting ideas to make your outdoor room useable day and night.


Creating Ambience
While wall and ceiling lights are obvious choices, consider using table lighting too. This can be very effective when creating an intimate setting, such as a quiet dinner for a few people, or even just two. If your outdoor room is set away from your house's electrical mains, or you want to be able to monitor your usage, a battery operated tabletop light would be a good option. But, don't forget about highlighting any special features in the garden to enhance the atmosphere. Chris Down, the Director of Lightingroup, says, "You can light up a border of plants, areas for eating, decks and you can even add lights to the foliage of plants. Be creative and consider all angles. Think about the way the light can bounce off a roof structure and shed light on the rest of the area."
Feature Lighting
If you decide to use lighting to create a focal point, Chris advises drawing attention to an object or plant, rather than make a feature of the light itself. "With good lighting, you should never know where the light is coming from," he explains. If your outdoor room looks over a pond, pool or other water feature, using light within the body of water will create a soothing, peaceful effect. "If you have a feature wall in your outdoor room, this is a great opportunity to use light as a feature," suggests Chris, "And there are many new lights coming onto the market that are quiet architectural and can be used for elements such as trees."
Creative Thinking
You'll soon discover that there are so many ways to use light in your outdoor room in a unique and personalised way. Coloured globes have always been popular in outdoor areas because they create a fun atmosphere, especially for a party. You could also opt to light a tree from the back, rather than the front, to create a pretty silhouette.  Or you can install lighting in sculptures themselves so you can still enjoy them once night falls.
LED Illumination

As more people become aware of the advantages of installing LEDs, their application in outdoor settings is becoming increasingly widespread. They are an appealing alternative to regular incandescent light bulbs because of their energy efficiency and long-term cost effectiveness. Additionally, they have extremely long lives, which make them perfect for light bulb docks that are difficult to reach.
We love:
1. Metalarte's (www.spacefurniture.com.au) hanging, free-standing and floating outdoor lights.
2. Royal Botanie's Lampalair range (www.royalbotania.com)
3. Designer outdoor lamps by Vibia (www.hubfurniture.com.au)
1.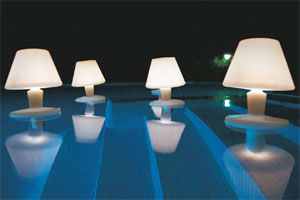 2.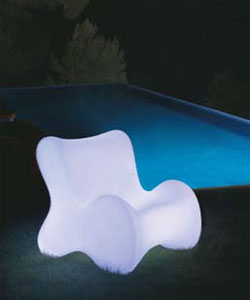 3.