Aqua-Quip pool lights evoke the inviting atmosphere of the tropics at the touch of a button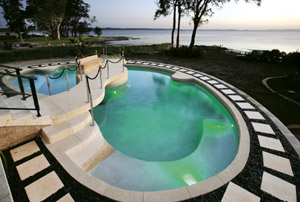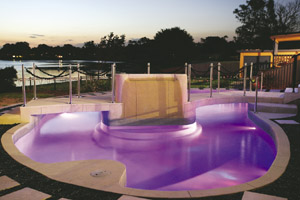 Found in leading resorts and hotels, the Spectrum light has the ability to cast a variety of bright colours throughout your pool. Leading pool equipment manufacturer Aqua-Quip has developed this new concept in underwater lighting. Consisting of a cluster of LEDs (light-emitting diodes), the Spectrum lights are simple to install and easy to operate as you can change the colour of your lights by simply flicking a switch.
Providing lighting for the coolest sweet 16 party or a New Year's Eve celebration is easy with the ever-changing disco effect. There is a fabulous array of colours available, such as pink, purple, red, orange, yellow, blue, green and aqua. Standard features include scrolling, flashing and colour hold facilities. Also, specific areas of your pool can be isolated and given individual colour treatments to apply different hues to various areas of your pool.
Designed to fit inside the standard Aqua-Star housing, existing customers can upgrade to the Spectrum light by simply changing the globe. Extremely energy efficient, LED lights offer up to 100,000 hours of running time. Spectrum lights also feature modern stainless-steel rings which sit flush with the pool wall, ensuring fittings remain sleek and unobtrusive.
Recreate the spectacular look and feel of a first-class resort in your own backyard with the Aqua-Quip Spectrum light. Perfect for the pool, these lights can also be used to illuminate water features such as fish ponds, fountains, catch tanks and waterfalls. Aqua-Quip also offers a specialised lighting design service. Simply fax or email your drawings, sketches or ideas and a member of the experienced team will custom design a lighting scheme to suit your needs.