Intelligent design has created a seamless integration between pool and home.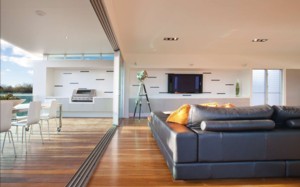 Working to a design by Saaj Design, the pool was built by Out From The Blue. With its sensuous curves, this expansive freeform pool is the perfect counterpoint to the strong, straight, architectural lines of the contemporary home. Designed to be "as one" with the home, the pool seems to flow right into the interior living and foyer areas. There is even a floor-to-ceiling glass "window" in the internal entry area, which provides visitors with an immediate view of the fresh, blue water of the pool. This glazed wall also provides a glimpse of a raised circular spa folded into the far side of the pool and located in front of the main living area.
There's something quite mesmerising about the sweeping curves of the pool's outline. This effect is enhanced by the wide curves of the shallow beaches that hover under the waterline and provide a place of respite.
To reinforce the organic, natural look of the pool, Castlemaine slate was used for the waterline tile, the coping and the "crazy" paved surrounds. The warm hues of the slate work well with the natural tones of the timber deck and the façade of the home. Extending the look, Castlemaine slate was used to construct the curved garden walls and to clad the barbecue. While the emphasis is on earthy colours, the interior of the pool was clad in brilliant blue Bisazza glass mosaic tiles to provide a fresh contrast. The result is a jewel-like effect.
Measuring 11 metres at its longest point, this pool has everything modern technology can offer, from gas heating to in-floor cleaning. To ensure an unobstructed view, the safety fencing is of frameless glass. Despite the stunning result, the project wasn't without its construction challenges, as parts of the pool help to support the structure of the house.
DETAILS
Website: http://outfromtheblue.com.au/