Innovative design and a stunning view ensure this pool is a success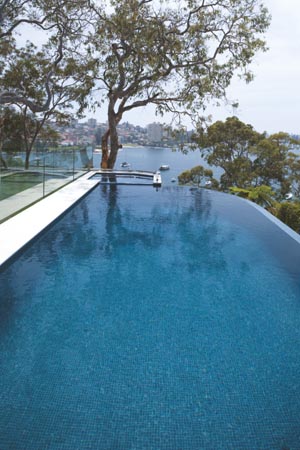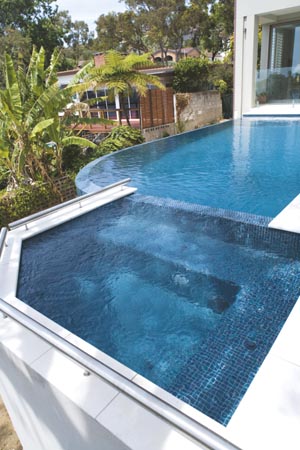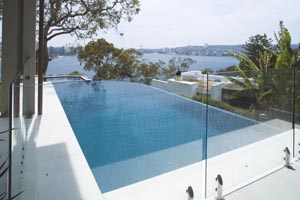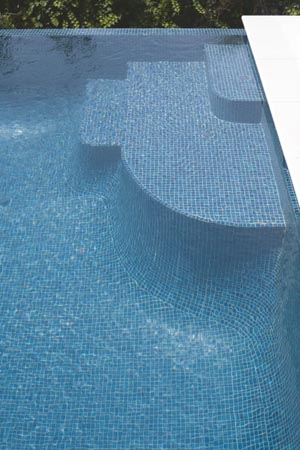 The owners of this property have just completed a fabulous new home with possibly one of the best aspects and views in Sydney. The pool needed to match the efforts of the house builder in delivering a complementary outcome to maximise the potential of the property.
A challenging site like this one very often presents some of the best opportunities to deliver a unique result.
The steep site location of this pool eliminated a useless corner and became an integral part, and real feature, of the entertaining area with stunning views as a bonus. This may be an average-sized pool but the outlook and views are anything but average.
The glass mosaic tile colour was chosen to blend with the harbour beyond and the negative edge design ensures a seamless transition from pool to background. The spa and pool wading ledge are positioned to maximise the outlook and remain close enough to enjoy the socialising on the adjacent undercover patio.
Quality practical inclusions like the porcelain tile surrounds provide easy cleaning and the in-floor cleaning system ensures minimum maintenance.
FreeStyle Pools specialises in individually designed pools built in conjunction with architects and builders. The company philosophy is to provide superior service and quality of product; the cornerstone of which is good planning.
"We double-check all dimensions and ensure that no mistakes are made once building starts," says Bruce Hitchcock, who began FreeStyle Pools 17 years ago with wife Anne. The company's large number of referred clients is testament to its high-quality service.
FreeStyle Pools designs up to 40 pools each year for the North Shore and Inner West regions of Sydney. The company is a member of the Masters Builders Association of Australia.
For more information