For truly chlorine-free pool water, Hydroxypure has the refreshing feeling of a natural spring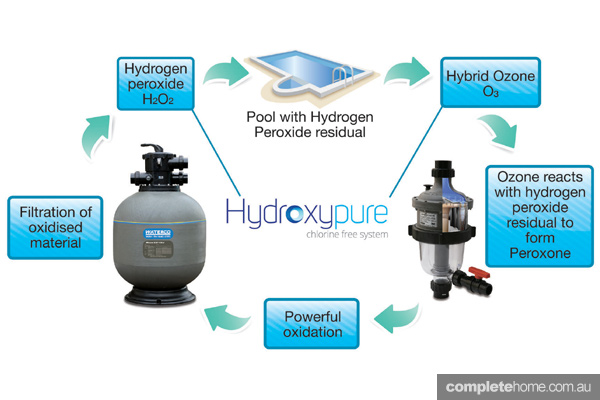 Waterco's Hydroxypure water treatment system is set to make a splash in the minds of pool owners across the globe. For pool water that is completely free of odours and taste, while being soft and gentle on the skin and even eliminating the need for showering post swim, Hydroxypure is a dream.
A pure alternative to traditional sanitisers, Hydroxypure eliminates regular consumables such as salt, chlorine and stabiliser. It also allows your family to swim in fresh, clean water. Hydroxypure is especially suited to indoor pools, as the fresh water ensures high air quality and no chlorine smell. Chlorine and salt free, Hydroxypure is also good news for those with eczema and allergies. Enriched with oxygen, it's the only such sanitisation system to receive a tick of approval from the National Asthma Council Australia. Gold Coast-based inventor Nick Briscoe, was inspired to come up with a chlorine-free pool to enable his youngest son Dalton, who suffers from eczema, to swim in the family's pool.
With minimal maintenance required, Hydroxypure is an affordable solution which can be installed in new swimming pools or retrofitted to salt or chlorinated pools. Setting it apart from traditional sanitation systems is its fully automated sanitisation and pH control, making Hydroxypure highly effective in maintaining pool sanitisation and water chemistry.
"Our specially-made control unit maintains adequate levels of hydrogen peroxide to be retained within the swimming pool, automatically adjusting its dosing for high bathing loads, hot weather, rain and pool top ups," explains Bryan Goh, Waterco director. Once a Hydroxypure system is installed, your pool has the ability to take care of itself. Waterco's Hydroxypure extends the life of the pool surface, pool equipment and surrounding landscaping, including stain-free splash marks on the glass pool fences.
Waterco has simplified advanced drinking water treatment technology and applied it to treating swimming pool water. The Hydroxypure sanitisation system uses the Peroxone Treatment Process (PTP) a combination of ozone and hydrogen peroxide to create a swimming pool that's totally chlorine free and enriched with oxygen, making it one of the most significant innovations in pool water treatment in 20 years.
Facts at a glance
Hydroxypure: Salt free, odourless, free of taste
Sanitation: Approved by the Sensitive Choice® program of the National Asthma Council Australia
Installation: New swimming pools or retrofitted to salt or chlorinated pools
Process: Hydroxypure is based on the Peroxone Treatment Process (PTP), a combination of hydrogen peroxide (H202) and hybrid ozone (03)
Control: Adequate levels of hydrogen peroxide are retained within the swimming pool, automatically adjusting its dosing for high bathing loads, hot weather, rain and pool top-ups.
Added benefits: Extends the life of the pool surface and pool equipment