An innovative design unites with a modern classic interior.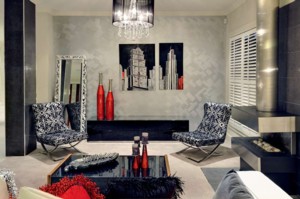 Known for incorporating unique designs and custom interiors, Grandville Homes created this single-storey home with a focus on entertaining, integrating an oversized outdoor area and spacious kitchen into the modern floorplan. An irregular-shaped block called for an innovative design.
Describing the brief, Nick Meletis of Grandville Homes said, "We wanted to create something new, innovative and representative of the current trends." The home consists of three bedrooms, an openplan living, kitchen and dining area, a bathroom that's serviced by two bedrooms — known as a semi-ensuite — a study and double-car garage. Featuring unique-designed porcelain tiles and CaesarStone benchtops, the open-plan living space follows a minimal approach. Doors, cabinets and finishes in vinyl gloss dark ebony were used to offset the predominantly neutral finishes in this area, highlighting warmth and character. To complete the contemporary setting, intriguing silver light pendants were integrated into this expansive space to add extra effect. The kitchen follows a sophisticated look. Stainless-steel appliances were seamlessly integrated into the design, where clean, sleek lines dominate.
Built into the kitchen is a bar fridge, twin Fisher & Paykel dishwashers and upmarket Ilve appliances. The island bench is the focal point in this kitchen. It's the perfect space to prepare meals and with two stools inviting you to sit and enjoy meals, it doubles in its function. Leading from the kitchen, a large pantry offers plenty of storage space. An interesting design element is the bi-fold window that opens out to the alfresco area. Unlike the rest of the house, the living room has a different flair. Red and black accessories such as cushions, chairs, vases and artworks decorate this space, creating an eclectic feel. The fireplace is a perfect addition in this room as it adds warmth and character. From the family room, a large bi-fold door leads into the alfresco area. "The alfresco space can be used all year round; the door can be closed in winter and opened in summer," adds Nick. In the master bedroom, a neutral colour palette was used. An eclectic mix of cushions, lighting and paintings add a unique twist and modern flavour to this space.
The feature wall is another interesting element in this interior. Worked into the ensuite bathroom design are his-and-hers sinks and an oversized shower. A part of the industry for more than 30 years, Grandville Homes is a multi-award-winning building company. Grandville's vision is to build innovative homes that are unique in design and provide quality finishes. 
This display home is just one great example of the work the company can do.