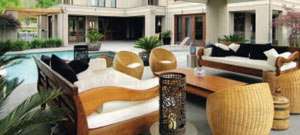 Combing formal flair with modern functionality, this landscape design is a classic
We've all heard the saying "you can't have it all", but this exquisitely landscaped property in the Canberra suburb of Yarralumla proves this isn't always the case. Thanks to a well-considered design by Darren Dimoff, director of DZ Designs Landscape & Construction, this contemporary Georgian-style home sits amid a luxurious landscape complete with swimming pool, tennis court and outdoor room, created for stylish entertaining.
Renowned for its extensive residential building experience, DZ Designs was engaged at the home design stage to maximise use of the block. This included input into the design of the home's windows and doors so they would be oriented to capture stunning views of the garden. It also gave them ample time to devise the best way to incorporate the owners' eclectic mix of outdoor art pieces into the various outdoor rooms.
Being involved in the early home planning stages made it much easier to implement some vital "behind the scenes" measures, such as locating a 100,000-litre recycled water tank under the tennis court to feed the fully automated drip-irrigation system.
To complement the clean lines and modern formal styling of the house, Darren divided the landscaped areas into a series of garden rooms, each with a special focal point.
The swimming pool and adjacent outdoor pavilion, however, is where the family spend most of their time. Darren wanted geometric paving around the pool, which meant the pool had to be designed around the paver size. By using only 400mm x 800mm bluestone pavers, the look is neat and symmetrical.
Similar care was expended to ensure the tennis court would seamlessly integrate with the outdoor pavilion. To achieve this, Darren eliminated the use of traditional fences, instead using bluestone-capped retaining walls and glass fencing.
The plants were chosen to reflect the formal styling of the architecture but more than that, consideration was give to their hardiness and their ability to change colour along with the Canberra seasons.
Pyrus calleryana 'Bradford' was used to create the formal tree-lined 'avenue' in the rear garden. These trees are easy to pleach and have lovely oval-shaped dark-green leaves which turn to yellow and red in autumn. In spring, they are covered with masses of white blooms.
For hedging, Darren chose Buxus microphylla 'Faulkner' and Camellia sasanqua. For screening and to complement the external colour scheme of the house, he used Magnolia 'Little Gem'. Elsewhere, you will find border plantings of agapanthus and seaside daisy.
At night, garden lighting is used to highlight the various features, providing a series of enticing vistas which can be viewed from inside the home.
Project details
Landscape design and construction by DZ Designs Landscape & Construction 81 Dominion Circuit, Deakin ACT 2600 Phone (02) 6286 9966 Fax (02) 6286 9969
Mobile 0418 627 202 Email dzdesigns@netspeed.com.au Website www.dzdesigns.com.au