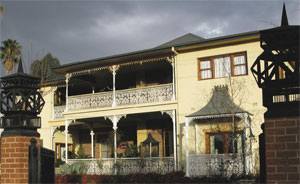 The 1960s and 70s must have been a nerve-wracking time for many a grand home as new owners and builders combined and followed the trend to convert once stately family properties into flats. Walls were added, plumbing and electrical wiring altered and many of the older period features, considered outdated, were replaced with more modern alternatives.
Luckily people are becoming more aware that it is these older homes which have stood the test of time and appreciate that it is their beautiful architectural details, sadly missing from modern houses, which separate them from the thousands of newer homes being built today. And thankfully, for many of the magnificent old homes themselves, they can breathe a sigh of relief as a committed few pull down those walls and return the period features to restore the houses to their former glory once again.
Bill Jones and Terry Hawkins are two such people who have taken Beverley House at Mudgee in central NSW and changed it back from the 1960s flats it had become to the mid-1800s manor it once was. This refurbishment has not only given them a beautiful home, it has also allowed them to establish the property as their own business, Beverley House B&B, simultaneously. Since moving to Mudgee from Sydney in 1980, chasing the fresh air and country lifestyle, the pair has spent the last six years running their business and enjoying meeting people from all walks of life.
"Beverley House was built by a man named James Atkinson in 1862 for himself," says Terry. "He came from Beverley in the county of Yorkshire in England and also built many prominent buildings in this area, including St John's Anglican Church.
Beverley House was built in the Victorian era and the mood of furnishings and décor was opulent and extravagant to an extreme … It really would be quite difficult to go over the top when decorating a Victorian mansion.
"The house was in a very poor state of neglect when we purchased it and we had to completely gut and refurbish it. We did all the hard yakka ourselves except for the plumbing and electrical work. Being a B&B owner you don't have a great deal of time for other interests. Our only hobby these days is gardening and although our garden is time-consuming it is very important to us."
When we first visited Beverley House, Bill and Terry were in the middle of a garden makeover project and were toiling in the garden. When we returned to photograph the house some months later, that project was completed and the pair were plotting their next undertaking.
When it came to decorating Beverley House, Bill and Terry used the many antiques, artworks and other decorative objects they have spent a lifetime collecting to enhance each room in its own way. The years they spent as antique dealers boosted their collection considerably. A blend of colonial, French and Asian influences have provided the home with an amazing array of colours and pieces, making it feel inviting to all who enter.
"We don't have a favourite colour as it would be too restricting having to furnish and decorate the five guest suites," admits Terry. "We have bought items from many places, from farm sales to antique auctions in the city, and anytime we find something we like better we change and upgrade the furnishings.
"People should be flamboyant and not be afraid to decorate a bit over the top as people like things a little different to their own home and the everyday. It's hard to choose one particular favourite piece, although the bronze horse and jockey in the hallway is reminiscent as Bill is an ex-jockey and racehorse trainer," he adds.
Terry admits there are elements in the guest suites that are very flamboyant, including a Versace dining table, but somehow the eclectic blending of elements works in this grand old home. Let's face it, Beverley House was built in the Victorian era and the mood of furnishings and décor was opulent and extravagant to an extreme that has never been repeated. It really would be quite difficult to go over the top when decorating a Victorian mansion.
Living and working in such a grand home offers challenges as well as delights but the long hours and constant maintenance have become part of Terry and Bill's lifestyle. They try and make sure that they take a decent holiday each year, leaving the B&B in the capable hands of a good friend.
Having lived in the Mudgee area for 28 years the pair has come to love the country lifestyle. Not that they get a lot of time for it but the house is set in a part of the town that is perfect for leisurely walks and a stroll around the neighbourhood reveals other time-honoured buildings. Of course, the area's many wineries are all situated within a few kilometres and there are plenty of galleries and restaurants for guests to enjoy, too.
So with the beautiful Mudgee area as their backdrop and Beverley House now restored to the grand lady it once was, do Terry and Bill ever miss their former city life? "Not likely. Beverley House is home now; it suits us and we're not going anywhere." x
For bookings or information on Beverley House B&B contact Bill and Terry on (02) 6372 4225 or visit www.beverleyhouse.com.au