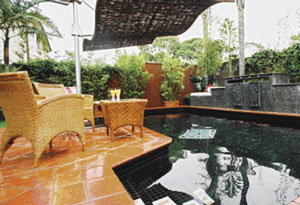 Design your outdoor room so it can be lived in and enjoyed, no matter what the season
Words: Catherine Stewart
Whether you want to curl up in a cosy armchair to enjoy the winter sun, stretch out on a warm summer afternoon with a book and drink in hand, listen to the rain while you notice the first hints of russet tones in the autumn leaves, or smell sweet spring flowers while you sip a hot cup of tea, creating an outdoor room for all seasons is a great way to make the most of the weather. No matter what time of year it is, with some clever design tips and ingenious flair, your outdoor room can change and adapt with the seasons.
The microclimate factors you need to observe for your outdoor room are its aspect (the direction it faces); the way the sun and shade move across the space at different times of year, as well as during the day; where cold winds blow from; and whether there are any cooling summer breezes. In southern Australia, the northern side of the house is the best place for an all-season outdoor room, but that's not always possible. It may be that, rather than have it adjacent to the house, it's better to position it further away so it's less affected by house shadows, and to work on creating a good connecting and transition zone.
Moveable structures such as canopies and screens are very useful for an all-year-round outdoor room. Rather than rely solely on a fixed canopy or roof, look at whether you can add to it during the hotter months with an extendable awning, shade sail or large umbrella that can be packed away or retracted in winter. In southern Australia, position them on the northwest side for maximum afternoon protection; or, if you're further north, you'll want them around to the west.
Screens that can be re-positioned around the perimeter will exclude cold winds, and those with slats that can be turned to different angles are perfect for taking the sting out of chilly winds while still spilling some winter sunshine through. Large planter troughs can be castor mounted (use stainless steel or shower castors with an in-built brake) so they can be moved around as a portable screen and windbreak.
Paving and masonry walls trap and hold warmth, which works well in climate zones with cool to cold winters. In more tropical zones, timber is a better option as its heat quickly dissipates once the sun goes down. In places with climate extremes of hot and cold, textured furniture, such as wicker and rattan types, is more comfortable to sit on and a mesh sling chair is even better on a hot, sticky day. Avoid the chill of sitting on metal furniture in cooler climates and remember how hot it will get if not shaded in summer.
For a new-season look without too much time and trouble, have some outdoor cushions made with different fabrics front and back, for a quick turn-around. A tall pot can display beautiful arrangements that reflect the season, or have a centrepiece bowl for the table filled with changing potted colour.
Outdoor cooking can also take on a seasonal character. A moveable barbecue can be wheeled around to the most advantageous spot out of the wind. An outdoor oven is ideal for hot pizza in winter, or invest in a decorative metal chiminea for winter barbecues as these also double as heaters. Hiring is a good option for winter heaters so you don't have the problem of off-season storage.
To cool down in summer, cover exposed masonry paving with a jute outdoor rug that will reflect rather than absorb heat. Make sure awnings are angled so they spill out hot air building up underneath, or use vented awnings and canopies such as reed and bamboo curtains, vine-covered pergolas or, best of all, an overhanging shade tree.
A ceiling fan will keep some evaporative cooling happening on a hot day, as well as help to keep mosquitos at bay. Channel cooling breezes around a corner and into your outdoor room with an angled screen, such as a heavy antique door. Attach outdoor blinds to the underside of fixed canopies and roofs that can be dropped for protection from late afternoon sun.
Introduce summer colours of turquoise, cool blues, yellow, watermelon and crisp white in furnishings. Plant dahlias, begonias, roses, sunny daisies and a canopy of crepe myrtle for summer colour or fill tubs with the hot tropical colours of canna, cordyline and croton. Use a copper brazier bowl filled with ice to chill drinks and salads. Summer is the season for evening outdoor entertaining, so quality night-lighting is essential. You can add to the sensation of cooling by filling a large, waterproof pot with a bubbling water feature.
In autumn, the sun's angle is already lower, coming in underneath shade structures. If it's still quite warm during the day right through into April, you'll need some afternoon shade on the northwestern side that extends beyond your seating area so it's all still in shade. A deciduous tree that colours well, such as nyssa, ash, ornamental pear or a small maple in a pot brings in those delicious russets and golds, or plant autumn-flowering banksia and native correa for similar effect, contrasting with cool grey helichrysum. In late autumn, you'll need to filter chilly winds from the west and south by placing slatted screens or tubs of clipped shrubs.
Don't shiver in cold winter winds; move those slatted screens and portable troughs to block them out. Enjoy the winter silhouettes of elegantly
bare trees and shrubs such as crepe myrtle and ash, the colourful winter stems on dogwood, as well as scented daphne and the goblet-shaped flowers of magnolia. Install uplighting to enhance the effect.
Make a heat trap by exposing masonry paving and walling to the full winter sun and keep a couple of warm throws in an outdoor cupboard. Warm up outdoor sling chairs with thin cushions to exclude draughts. Low winter sun angles allow sunshine to push in from the north under overhead canopies, but you can supplement your heating with a metal outdoor brazier or even a sunken firepit that's covered over with pavers or decking in the warmer months. Drain summer's water feature and fill with sand to hold coloured bamboo sticks or top with a decorative gel burner.
When spring arrives, be ready to catch those warm rays from the northwest for a cosy afternoon tea. Bring in fresh colours of pink, lemon, cream and greens. Flowering trees such as plum, peach, cherry and crabapple make a co-ordinating display. Add some stunning native boronia, waxflower, Grevillea 'Coconut Ice', native fuchsia and Zieria, as well as a table bowl of pretty spring bulbs. Don't put the heaters away just yet, as the nights can stay cold right into December.
Creating an outdoor room that can be enjoyed no matter what the season is a good way to make the most of your outdoor living space. From those hot balmy nights to those chilli wintry days, careful planning and consideration will mean your outdoor room can be lived in — and enjoyed — in autumn, winter, spring and summer.