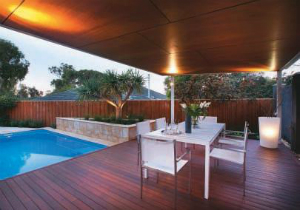 A pool, entertaining area and balcony makeover gives a garden a new lease on life
By Rachel Falzon
The first thing you notice when you look into this impressive property's backyard is the feature tree. A beautiful Dracaena draco (Dragon Tree) takes centre stage, balancing the design of the area, providing some shade in the warmer months and drawing admiring comments from guests when entertaining.
As entertaining was a priority, high on the owners' wish list was an area for outdoor dining, so too was a new planting scheme. And as the owners had already contracted a company to build the pool of their dreams, this also had to be taken into consideration when redesigning the landscape.
Guy Moritz of Ritz Interior Design was called in to take on the job. While the end result is stunning, it was not without its challenges. "The site access was limited and small machinery was used to clear the existing lawn and garden," Guy explains. "The biggest challenge was building the limestone garden bed next to the pool; it needed to be in place and below the bottom level of the pool before the pool was installed. This meant digging a very large hole and laying all the limestone by hand from two metres below ground level to above pool level so the wall wouldn't put a load on the pool, which is made from fibreglass." With such an amazing result, the effort was well worth it.
To improve the view from inside the home — the main indoor dining room looked out onto a boundary retainer wall — Ritz Exterior Design designed two offset feature plinths in two contrasting colours to provide interest. At night, they are highlighted by strategically placed up-lights to provide a feature for those inside the home to look out to.
A second feature wall was constructed from steel and clad with compressed fibre cement. This wall provided the strength to allow a bench seat to be attached to it yet it looks as though it is suspended in the air. The same red was used on this wall as the feature plinths — a common aesthetic between areas that has created a connection between them. This wall doubles as a screen where pool equipment and toys are hidden out of sight behind it.
The balcony upstairs was seldom used due to lack of privacy and exposure to the elements. To combat this, the balustrade needed to be replaced with something to complement the new pool and alfresco area and a screen installed to provide privacy to and from the neighbours.
The busy family wanted to keep maintenance to a minimum. To this end, mostly native grasses and shrubs were planted as they require little water and time spent tending to them. While they may require little attention, they provide a big impact, adding bright green and silver contrasts to the red feature areas. Sanseviera trifasciata 'Moonshine' was also planted in front of the feature wall, providing an element of texture and interest. Dracaena marginata was also planted here.
Westringia 'Naringa' was chosen to screen the old pine fence as it has a narrow yet tall growth habit. The other feature tree selected was Banksia integrifolia 'Coast Banksia' for its silver foliage and unusual form. It will also encourage birds into the garden when it produces its beautiful yellow flowers.
Paving is washed aggregate, generating a clean, flat surface without joins, which prevents ants and weeds finding a home here.
The main outdoor entertaining area sits on a slightly elevated decking platform made from recycled jarrah floorboards. With an eye for the future, Ritz Exterior Design installed a reticulation system for preventing termites. "This saves a lot of hassle when periodically treating for termites," explains Guy. "Rather than drilling and injecting chemicals and leaving unsightly holes, the product is safely pumped into the perforated reticulation line surrounding the whole house and deck."
For extra practicality, LEDs combine with standard halogens, giving a contrast between the bright blue-white and yellow lights that emphasise the timber in the roof lining. With such a lighting scheme installed, the garden is an inviting place to spend time both day and night.